U.K.
The British System Shielded Sexually Abusive Officials for Years
The Weinstein scandal in Hollywood has unleashed years of accusations in Westminster.
by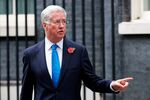 The sexual abuse allegations against Harvey Weinstein have captivated the British public since the story broke. Now U.K. journalists are digging into a titanic scandal that goes straight to the heart of the country's self-dealing political culture.
In both Hollywood and Westminster, a complicit culture and lax controls were primarily responsible for allowing "sex pests" to operate without consequence. But in both places, there were also legal deterrents to speaking up. In the U.S., non-disclosure agreements helped keep a lid on Weinstein's predatory behavior for years. In the U.K., it's plausible that libel laws designed to protect individuals from spurious accusations deterred people who had been abused from speaking up. In the tsunami of revelations, media support and #metoo-ing, however, such legal shields are proving flimsy.
What might be called the Weinstein Effect claimed its first political scalp last week in the resignation of the U.K. defense secretary, Michael Fallon, who said of his past transgressions that the "culture has changed over the years." That won't be the end of it.
Over the weekend Chris Pincher, a government whip referred himself to an internal disciplinary panel and also the police over claims he propositioned an Olympic rower in his bathrobe. Two further Conservative members of parliament, Charlie Elphicke and Daniel Poulter, are under investigation for allegations of sexual abuse. Prime Minister Theresa May's close adviser and effective number two, Damian Green, is also the subject of an inquiry after allegations, which he denies, that he acted inappropriately toward a journalist 30 years his junior. A spreadsheet has been circulating that details allegations of inappropriate sexual behaviour of 40 Conservative MPs.
The Labour Party too is under the microscope. Popular party activist Bex Bailey stepped forward to say she was raped by a party official at an event in 2011 but had been advised by another Labour official to keep quiet. Labour MP Jared O'Mara has been suspended for comments he made online in the 2000s; another, Kelvin Hopkins, was suspended "on the basis of allegations received."
Some of the revelations may turn out to be minor or false; others will presumably expose serial abusers. It will take time to sort out the difference, and there is the danger, as always, that reputations will be unfairly trashed in a messy process of political score-settling. But just as it emerged that much of Hollywood had heard about abuse involving Weinstein (and actor Kevin Spacey), it's an open secret that sexual abuse is no rarity in the House of Commons either.
Tory MP Lisa Nandy told the Commons last week that she tried repeatedly to tell then-Home Secretary Theresa May that whips -- party enforcers -- used sexual abuse information to coerce loyalty from MPs, including in this parliamentary intervention three years ago:
In the mid-1990s, a senior ex-Whip who had served in the 1970s told the BBC that the Whips Office routinely helped MPs with scandals, including those, in his own words, "involving small boys," and that they did so to exert control over those individuals and prevent problems for the Government. That is just one powerful example of how personal and political interests can conspire to prevent justice from happening. 
Prime Minister Theresa May's response was largely tokenism back then. On Friday, May set out a new code of conduct for Tory MP's and announced a confidential telephone hotline. The red-faced scramble to respond to the revelations with suspensions and policy overhauls speaks to how casually such reports have been treated in the past by all parties.
Some of those embroiled in the allegations have spoken of libelous claims, hinting at a legal attack; expect them to laywer up. In the U.S., where freedom of speech is held sacrosanct, public figures alleging that they have been libeled must prove reckless disregard for the truth. In Britain, where a more delicate balance is struck between free speech and privacy concerns, the defendant in a libel case carries the burden of proof.
So different are the two systems that President Barack Obama signed a federal bill in 2010 to prevent U.S. courts from enforcing British libel decisions. In an October 2016 interview, Donald Trump praised British libel laws and suggested America's protections of press freedom went too far. "In England you have a good chance of winning. And deals are made and apologies are made," he said. "Over here they don't have to apologize. They can say anything they want about you or me and there doesn't have to be any apology. England has a system where if they are wrong things happen."
It was a self-serving statement from a serial plaintiff, but not entirely incorrect. At times, the standard has seemed justified by a salacious tabloid culture where unsourced allegations could be splashed across the pages with little regard for the truth. Changes over time widened the defenses available to publishers. A 2013 reform made it harder to use the courts to repress debate and discouraged "libel tourism," which was the concern that prompted the U.S. law.
But the law is still heavily weighted in favor of the plaintiff, a burden of proof newspaper editors have often found onerous. Since the costs of mounting a libel defense are high, the benefits of publishing accusations must justify the risks. In that sense, British libel law forms a sort of moat around officials, protecting them from false accusations but also from well-founded scrutiny. For victims of abuse, especially those without deep pockets or high-level media backing, it can be daunting.
Still, the lack of proper, well-enforced controls in parliament, and a culture of cover-up, were the bigger barriers to truth emerging. As media law barrister Justin Rushbrooke explained to me, MPs are generally reluctant to sue on morality issues (juries tend not to be sympathetic). And libel fishing would prove particularly tricky in the current environment: Journalists have a strong public-interest defense when the entire system is under the microscope. The gloves are certainly off now.
The Westminster bubble has survived previous scandals relatively unchanged. And yet it feels like a watershed moment in British politics. Whatever the barriers to speaking out, a dam of sorts has been breached. In Westminster, as in Hollywood, the only certainty is that there is more to come.
To contact the editor responsible for this story:
Philip Gray at philipgray@bloomberg.net
Before it's here, it's on the Bloomberg Terminal.
LEARN MORE