Canada
Markets Vote 'Yes!' on Canada's Trudeau
Two years after his surprise political rise, stocks, bonds and the currency are booming.
by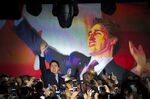 "Let's talk about Justin," began a caustic Canadian campaign commercial supporting the Conservative government of Prime Minister Stephen Harper during the run-up to the 2015 election. That would be Justin Trudeau, whose Liberals were running last in a three-way race behind a confident New Democratic Party, and who'd been battered by a Conservative Party offensive that portrayed the modestly experienced 43-year-old as a callow lightweight who was "just not ready" for national power.
Two years later, we've learned that actually, he was. First, Trudeau surprised his country of 36 million that October by leading a Liberal Party surge that gained 148 seats in parliament, the most in any national election. Then he became the second-youngest prime minister in Canadian history on Nov. 4, and Canada has led the developed world ever since in combined economic and population growth, currency gains, stock and bond performance, and robust corporate earnings.  
Trudeau ran for office on a platform of tolerance for budget deficits, a campaign plank that his opponents unsuccessfully sought to exploit. Businesses, then and now, are unfazed. Investors also appear heartened by his embrace of free trade, the Paris climate agreement, immigrants and globalization as Canada outperforms the U.S. under its "America First" President Donald Trump.
"We needed to once again say, 'Look, we're in a confident place, so let's invest in our future,'" Trudeau told the Canadian television journalist Dawna Friesen after the election. Noting that his opponents were committed to balanced budgets, he declared, "I told a few people" that "we'll look back at this as the turning point of the election campaign and it turned out to be."
It's always better to be lucky than smart, and Trudeau's willingness to upend political dogma coincided with rising gross domestic product and strong economic forecasts. Economists predict that Canada will be No. 1 among the Group of Eight countries this year and remains poised to be in second place in 2018 and 2019, according to data compiled by Bloomberg. Trudeau's first 12 months as prime minister marked the end of five years of middling growth. 
Trudeau initially welcomed refugees and immigrants, and his first year as prime minister saw the population grow 1.2 percent compared to 0.7 percent for the U.S.
"The good news is that all provinces benefited from net international immigration which was up 0.9 percent nationally" and comprised "a record 75 percent of the overall population growth rate," said the National Bank of Canada, which considers the trend "a positive for the economy's potential and tax base."
Trudeau's Canada is beating global peers with superior returns, and speculation in financial instruments shows that the stellar results of the past two years aren't likely to end soon. The Canadian dollar has gained 8 percent since 2016, second only to the Norwegian krone among the Group of 10 countries, according to data compiled by Bloomberg. During the last 24 months of the Harper government, the Canadian dollar was the fourth worst-performing currency in the G-10.
Trudeau's advocacy of more government stimulus shows no signs of aggravating the credit markets. Deficit spending notwithstanding, traders are betting that inflation will decline to a 10-year average of 1.55 percent annually, from 2.7 percent in 2011. That's based on the difference in yield between inflation-linked bonds and traditional debt securities, Bloomberg data show.
Yields on benchmark 10-year bonds, or the cost of government borrowing, show the gap between Canada and the U.S. widening in favor of the northern neighbor. Trudeau's government borrows money today at an interest rate that is 40 basis points cheaper than the U.S. That's startling in modern times. Since 1988, Canada has paid an average of 35 basis points more than the U.S., according to data compiled by Bloomberg.
Companies are flourishing under Trudeau. In the market for the riskiest, highest-yielding corporate debt, the average borrowing cost is the most advantageous in a decade and has diminished to less than 4 percent above comparable sovereign debt from 8.7 percent in early 2016 and 14.8 percent in 2009. In the stock market, measured in U.S. dollars, the 250 companies in the S&P/Toronto Stock Exchange Composite Index gained 40 percent since 2016 while the benchmarks for the U.S. and the world returned (income plus appreciation) 31 percent and 29 percent, respectively, according to data compiled by Bloomberg.
The outlook is even brighter than the present for corporate Canada, where earnings are growing faster and investors are buying Canadian shares at a 5 percent discount to their U.S. counterparts. That's a turnabout from the year in which Trudeau took office; during 2015 Canadian shares lost 22 percent as the U.S. market appreciated 15 percent and the world gained 5 percent. Canadian equities were changing hands at a premium of 13 percent to their global peers on a price-to-earnings basis, which means earnings were declining more than the stock market, according to data compiled by Bloomberg.
Enthusiasm about the prospects of Canadian companies is reflected in revenue forecasts by Wall Street analysts, which have risen 17 percent since Trudeau took office. Comparable forecasts for U.S. and global companies have risen 8 percent, Bloomberg surveys show. This enthusiasm is grounded in the surfeit of earnings surprises since the last few months of 2015. That's when the S&P/Toronto Stock Exchange Composite began a streak of 7 consecutive quarters during which companies reported results that exceeded forecasts, the best period for shareholders since 2007. 
All of which is to say that Canada and the world were ready for Justin Trudeau. 
(With assistance from Shin Pei)
To contact the editor responsible for this story:
Jonathan Landman at jlandman4@bloomberg.net
Before it's here, it's on the Bloomberg Terminal.
LEARN MORE