Prophets
Bond Outlook Gets Gloomier in Forward Rate Markets
The next bear market is likely to be characterized by a slow grind to very low returns rather than a sudden sell-off.
by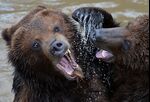 After the first two consecutive down months for the Bloomberg Barclays Global Aggregate Index this year, the debate about whether the $120 trillion global bond market is entering a bear market is heating up once again. But as usual when it comes to fixed-income assets, the discussion isn't as simple as whether investors are in for a prolonged period of falling bond prices and higher yields. That's already happening in some parts of the world.
Instead, the next bear market in bonds is likely to be characterized by a slow grind to very low returns rather than a sudden sell-off. The place to start when assessing what's ahead for the bond market is global forward rates, which basically provide a sense of where debt investors expect yields to land at some point in the future.
Currently, those rates imply expected returns of 1 percent to 3 percent over time, reflecting lower term premiums that resulted from central bank asset purchases. The term premium is simply the extra yield a bond investor would get for locking up money for an extended period -- 10 years, for example -- rather than continuously buying much shorter-term debt over the same amount of time. Using a Federal Reserve model, the term premium for Treasuries is a negative by 0.3 percent across all maturities, indicating that yields are insufficient to compensate for the risk of higher rates of interest and inflation.


So, where are the trouble spots? Try starting with local currency emerging-market bonds, where losses have built up over the over the past month as U.S. Treasury yields turned higher, the dollar appreciated, and countries such as Turkey and South Africa experienced increased political turmoil. The question is, will that damp the benefits from slower inflation and easier monetary policies in many emerging markets?
From there, head over to European sovereign bonds, which have become even more overvalued. Although the European Central Bank just announced that it will reduce its monthly bond purchases by half, to $30 billion euros ($35 billion), it also reiterated its intention to keep interest rates low and reinvest large amounts of maturing bonds back into new securities. 
Even though the euro-zone economy is growing at about the same pace as the U.S.'s, long-term yields are one percentage point to 1.5 percentage points lower than those for U.S. Treasuries. In addition, crisis-era measures designed to support the bond market such as the ECB's Outright Monetary Transactions program remain in place. These measures are no longer necessary, but they keep European bonds in a state of overvaluation.


Also keep a close eye on the U.S. bond market. Some investors say there will be a "moment of truth" for the global market if 10-year Treasury yields break through key levels near 3 percent. Others claim higher yields may never happen because the post-crisis environment has structurally lowered potential output and inflation.
There is probably a strong case for both sides, but if yields fail to breach those key levels, then they could end up falling much further. That wouldn't be such a good scenario, either, as it would signal that the U.S. bond market has become like the one in Japan, where very flat yield curves have resulted in ultra-low to no returns.

Whatever lies ahead, a key risk for bond investors is that yields end up at levels that are too low. We could be seeing that occurring right now. 
To contact the editor responsible for this story:
Robert Burgess at bburgess@bloomberg.net
Before it's here, it's on the Bloomberg Terminal.
LEARN MORE