Early Returns
What Special Elections Will, or Won't, Tell Us About the Future
Jonathan Bernstein's morning links.
by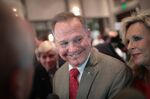 One thing you probably missed during an insanely newsy Tuesday was another special election in New Hampshire. This one was for a Democratic seat, and a Democrat won -- but by a larger margin than Hillary Clinton in 2016 or Barack Obama in 2012 carried the district. 
Why should we care? Because despite their well-publicized losses in a few House specials, Democrats are having a very good year in these elections, with an average margin of 11 percentage points better than Clinton's showing. Over some 40 specials, that's a large margin, although so far all it's netted them is a handful of state legislative seats. 
But all that may change very soon. The regularly scheduled 2017 elections are coming up on Nov. 7, with gubernatorial and state legislative races in New Jersey (upper and lower chambers) and Virginia (lower chamber). There's also a special election to replace Utah member of the House Jason Chaffetz, and a special in a Washington state Senate district that will determine control of that chamber. Then, on Dec. 12, Republican Roy Moore and Democrat Doug Jones will square off for a U.S. Senate seat in Alabama. 
That's a lot of elections. As of now, the most likely scenario is that Democrats will win both gubernatorial seats, including a pickup in New Jersey; Republicans will hold the Alabama Senate seat; and Democrats will make up some ground in the Virginia legislature. In other words, a good result for Democrats, consistent with polling that shows Donald Trump is unpopular and gives Democrats an edge in the "generic" House ballot. 
If those results hold true, people are probably going to drop some of their skepticism about Trump's terrible poll numbers. They'll act on it, too. For the 2018 elections, even more of a Democratic advantage will be locked in as resources (quality candidates, money, enthusiasm) flood Democratic efforts even more than they already have, and dry up even more on the Republican side. If Democrats beat projections, either by winning by larger margins or in more contests than expected, then that's going to make it even stronger. Of course, the reverse is true as well. If Republicans pick up a governor in Virginia despite trailing in the polling averages so far, then they (and many Democrats as well) will become more convinced than ever that Trump's poor approval numbers are irrelevant to future election outcomes. 
If, however, Democrats do well on Nov. 7 and Jones upsets Moore in Alabama, there's a chance of some serious Republican panic. They currently hold a 52-48 margin in the Senate; reduce that to 51-49, and all of a sudden their ability to put together a working majority becomes seriously threatened. Not only that, but any remaining "magic" Trump is still thought to have will be entirely gone. And that, in turn, will further embolden Republicans to challenge him -- just as Moore's victory over Trump's candidate in the Alabama primary probably helped strengthen the backbones of Republican senators who have recently attacked him. 
Most of this functions at the level of perception. The truth is that special and off-year elections aren't especially strong predictors of midterm elections. These elections, while important for governing, don't really add much evidence to what we already know about 2018 -- or, for that matter, about 2020. But reactions by political actors could very well have some real effects on future elections. 
1. Laura von Daniels at the Monkey Cage on Germany's post-election economy. 
2. Dave Hopkins on today's unusual party alignment, and how it translates in electoral outcomes. Important.
3. See also Seth Masket at Mischiefs of Faction on the 2016 election. 
4. Dan Drezner argues one of the central questions of 2017: Does Trump act more like a toddler or a teenager? 
5. Good conversation between Jonathan Chait and Charlie Sykes on the conservative movement and Trump. 
6. Simone Pathe in Roll Call reports on the prospects for Republican women in the House. Currently there are almost three times as many Democratic women as Republicans, and at least five of the 22 Republican women won't be back in 2019. 
7. And Nate Cohn at the Upshot on fundraising: where Democrats are doing well in 2018 House races -- and where they're not. 
Get Early Returns every morning in your inbox. Click here to subscribe.
To contact the editor responsible for this story:
Brooke Sample at bsample1@bloomberg.net
Before it's here, it's on the Bloomberg Terminal.
LEARN MORE