Millennials
Goldman and Chase Want You To Know They Care
But can emojis help millennials connect with a banking app?
by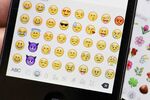 This post originally appeared in Money Stuff.

Lloyd Blankfein is handing out toasters.
Well, not really, but he is calling retail borrowers on the phone to make sure they're happy:
He introduces himself as Goldman Sachs CEO Lloyd Blankfein and asks about their their experiences with the bank's personal loan product. Marcus issues loans ranging from $3,500 to $30,000 to individual consumers, a big departure from Goldman's traditional client base.
I wonder if Goldman is getting good value from those calls. When Blankfein goes to a meeting with a big -- or medium-sized -- corporate or institutional client, the client feels special; it knows that it is getting Goldman's full attention and best possible efforts. Corporate and institutional clients understand the symbolism of having Blankfein show up at a meeting. People borrowing $3,500 from Goldman's website strike me as less likely to be impressed by Blankfein's personal touch. (Also, even if they are impressed, they are less likely to mandate Goldman on a $50 billion merger.) Still I suspect that those calls are more fun for him than the big merger pitches are. "So, what are you gonna use the money on," he can ask, and people will say things like "redoing my kitchen" or "fixing my car" or "bailing my brother out of jail." It's so much more human and gossipy than "synergies."
Meanwhile at JPMorgan Chase & Co.:
Chase today unveiled Finn by Chase℠, a new all-mobile bank that gives consumers greater control of their everyday spending and saving - and happiness - through a completely mobile experience.

Finn℠ offers a new perspective on banking through customized tools that help consumers build savings and reflect on everyday spending, from a daily cup of coffee to a vacation with friends.

The bank designed Finn by working closely with millennials for more than a year to understand their unique money challenges and what influences their spending. Research found that emotions played a large part in their decisions, but they didn't have a way to understand the impact it had on their financial lives.

"When it comes to money, millennials told us they don't want to feel like they're being judged," said Bill Wallace, CEO of Digital at Chase. "So, we designed Finn to put them in charge, no matter where or how they're spending."
I am sorry for that very long block quote but I found it impossible to omit any of those sentences. Even cutting it off there, you miss out on the bullet point about how millennials can "assign emojis for how those purchases made them feel." It is definitely one of my top 10 favorite press releases about mobile bank apps. Disclosure: I bank with Chase, and use its mobile app, but as of this morning I have the regular old-person mobile app rather than the cool millennial app. My Chase banking app has never asked me about my feelings, but to be fair it also never makes me feel like I'm being judged either. It just ... I know I am going to sound like such an old fogey here but ... it just lets me deposits checks and check my balances and payments.
Oh I guess another disclosure is that I used to work at Goldman Sachs Group Inc., and I was there when Goldman became a bank holding company, and there was definitely a lot of joking about handing out toasters back then. 
Also you know Goldman's Marcus online-lending product is named after Marcus Goldman, the founder of Goldman Sachs, right? Who is Finn named after? I hope John Pierpont Morgan had a less famous cousin named Finn. Millennials love authenticity, and giving your app a charming human first name that isn't the name of your founder seems, dare I say it, inauthentic?
Elsewhere in apps: "TD Ameritrade Clients Can Now Trade Stocks on Facebook Messenger." I assume that wasn't some dumb random choice; I assume that people wanted that, or at least that well-informed market-research types concluded that people would want that. So much of human experience is so alien to me. 
To contact the editor responsible for this story:
James Greiff at jgreiff@bloomberg.net
Before it's here, it's on the Bloomberg Terminal.
LEARN MORE