Companies
Make Board Members Follow Company Conduct Codes
Most firms have rules barring racist rants like Marc Faber's. But they're only aimed at employees.
by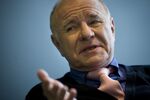 Marc Faber, the investment strategist who wrote that the U.S. has only been prosperous because it's been run by white people, started Tuesday on four corporate boards. He ended the day on just one, having been forced to resign from three of them after his remarks in an October client letter suddenly surfaced.
He might have been gone from all four if corporate board members were consistently held to the same behavior and performance standards as regular employees and executives.
Way too often, they're not. Lots of people lost jobs in the collapse of Bear Stearns and Lehman Brothers, for example, but some of the directors held onto board seats at other firms. Two Enron board members were able to retain board gigs elsewhere even after presiding over their company's corruption-plagued demise.
Pay rules also don't often apply to board members. While more than 90 percent of the companies in the S&P 500 have clawback provisions for executives, almost none have similar provisions for board members. And while executives are almost always forbidden to have conflicts of interest involving their companies' operations, board-member conflicts are routinely dealt with by disclosure alone.
The three companies that pushed Faber off their boards had conduct codes forbidding racist speech and workplace discrimination. One barred all speech that could create a hostile working environment. Maybe Faber wouldn't have been so surprised to find that his racist rant would have repercussions if corporate boards routinely applied the same standards to board members as they do other employees. And maybe corporate board members would pay closer attention to business ethics if they had to follow the rules they set for their staffs.
Faber's demise is also a product of the times. President Donald Trump's racist remarks and twitter associations have made other leaders more sensitive to hate speech. When corporate chief executives fled Trump's advisory boards over the summer after the president's observation that white nationalist protesters in Charlottesville, Virginia, included "some very fine people," doing so became the corporate norm.
After Enron and other corporate blowups, more investors started looking to boards for clues of problems ahead. And after hackers stole personal data from Equifax of over 140 million people, fingers were pointed at  the lack of accountability and expertise on the credit reporting agency's board. One of the world's largest money managers, State Street Corp., has pushed an effort to force companies to make their boards more diverse, particularly by gender, which would mirror longstanding similar efforts aimed at workforces.
They have a long way to go. There are no black board members on any of the boards that Faber served on, and only one of them had a single female member. None of those companies has announced plans to replace Faber with a member of any minority group.
But Faber's quick ouster is a start. Maybe it's even a tacit acknowledgement that corporations should expect their board members to behave at least as well as everybody else on the payroll.
To contact the editor responsible for this story:
Jonathan Landman at jlandman4@bloomberg.net
Before it's here, it's on the Bloomberg Terminal.
LEARN MORE