Editorial Board
Fresh Hope for Obamacare, and for Bipartisanship
A Senate compromise would put Americans' health before politics.
by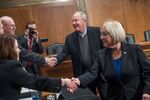 After several failed attempts to wreck the U.S. health-insurance system, Congress now has a bipartisan agreement to help shore it up. The deal could still fall apart -- victimized by the president's fickle support and committed opposition from conservatives in Congress -- but it's exactly the kind of rational compromise that Washington needs more of.
The agreement reached by two senators -- Democrat Patty Murray of Washington and Republican Lamar Alexander of Tennessee -- would guarantee for two years the essential payments to insurers that President Donald Trump withdrew last week; those companies wouldn't then need to hike premiums by as much as 20 percent or exit the individual insurance market altogether. In return, the bill would, among other things, allow people to buy less comprehensive coverage than the Affordable Care Act now requires. That would loosen Obamacare protections, but not drastically.
The president says he supports the deal, although consistency has never been his strong suit. If he wants to count this compromise as a win, fine. Now he just needs to get his own party, especially in the House of Representatives, to help pass it.
Some Republicans in Congress are already balking, holding out for their dream of repeal. But that dream already died in the Senate, twice. Obamacare is the law of the land -- and at this point, two-thirds of Americans want it to remain so.
Trump says Murray-Alexander is just a "short-term deal." But a two-year extension for the Affordable Care Act would strengthen its hold. And by demonstrating how readily the law can be tweaked in productive ways that appeal to both Democrats and Republicans, it could begin to lay a bipartisan foundation for the U.S. health-care system. Let that not be too much to hope for.
--Editors: Mary Duenwald, Michael Newman
To contact the senior editor responsible for Bloomberg View's editorials: David Shipley at davidshipley@bloomberg.net .
Before it's here, it's on the Bloomberg Terminal.
LEARN MORE