Politics
California Senate Race Tells the Democrats' Future
If the left can't beat a moderate like Dianne Feinstein, it doesn't control the party.
by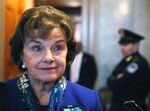 "Democrats are now captive to the party's left-wing fringe" wrote conservative commentator Ed Rogers in September. Back in 2016, the conservative Washington Examiner editorialized that the Democratic descent into the socialist pit had actually begun years before. While the news media was fussing over "extremism" engulfing the Republican Party, they "ignored the existence of the reciprocal phenomenon -- the Democratic Party's lurch to the left."
According to this analysis, the nomination of Hillary Clinton in 2016 wasn't a true expression of the Democratic Party character (or else her incrementalism was a calculated fraud). Clintonism was a last gasp before radical socialism, mandatory abortions and free beer finally toppled the old guard.
This theory of Democratic radicalization will get a real-world test next year, a prelude to the big show in 2020. You couldn't design a better experiment in a lab.
Senator Dianne Feinstein is running for re-election in California. If the left-wing fringe is truly in command, the state's senior senator is unequivocally toast.
Feinstein will be 85 as she campaigns next year. That's not great. Dicier still, she is the very definition of a moderate -- measured, temperate and more conservative than 85 percent of her Democratic Senate peers, according to one analysis. What's more, she's running in the capital of American liberalism, where activists are outraged that California state legislators declined to enact socialized health care this year.
Surveying the state in July, Politico declared a Democratic "civil war." This week, Politico described establishment Democrats in the state, Feinstein emphatically included, as "under siege."
In August, Feinstein committed a gaffe -- more like a crime, really -- that the left surely can't forgive or forget. Speaking in San Francisco, she "shocked the crowd," the San Francisco Chronicle reported, "when she declined to say that Trump should be impeached." Feinstein went on to say that Donald Trump could become a "good president" if he proved able to learn and change. Markos Moulitsas of the Daily Kos denounced her as "the most pro-Trump Blue-state Dem in the country."
So long, DiFi.
Indeed, the only element missing from Feinstein's political obituary is the name of the lefty insurgent who will dispatch her next year. Curiously, she still lacks a credible opponent. She's already been endorsed by her California colleague, Senator Kamala Harris, and Los Angeles Mayor Eric Garcetti, whose ambitions are said to be focused on a gubernatorial or presidential run, not on a challenge to Feinstein.
"Her Democratic base is very, very strong," said Feinstein's longtime adviser, Bill Carrick, in a telephone interview. "She has a big political base in Northern California. She's strong with women and with people of color. She's big with LGBT. She's never lost L.A. County in any election, primary or general."
Robert Shrum, a veteran Democratic consultant who is now director of the Jesse M. Unruh Institute of Politics at the University of Southern California, says the party's left wing unquestionably has more energy in the wake of Senator Bernie Sanders' vibrant run for president. And the consequences of that will surely be felt.
"There will be a progressive test," he says of both 2018 and 2020. But a progressive test, unlike a Tea Party test of radicalism, or a Trumpist test of tribal rage, isn't all that tough for a moderate like Feinstein to meet. "She meets the progressive test," Shrum said.
There is still plenty of time for a challenge to Feinstein. State Senate leader Kevin de Leon, who has sought to establish himself as champion of the state's anti-Trump army, is term-limited in the Legislature and eyeing the future. Politically active California entrepreneur Joseph Sanberg has complained about Feinstein and expressed the need for a "bold progressive fighter." He can afford to mount a campaign.
But Feinstein, the beneficiary of a Beverly Hills fundraiser on Tuesday night hosted by Hollywood elite, doesn't lack financial resources. "I don't know why people whose principle advantage is they have a lot of money would run against a candidate with a lot of money," Carrick said.
There is no reason to think Feinstein is impervious to challenge. "Right now, the energy in the Democratic Party is all on the progressive side," said Claremont McKenna political scientist John Pitney, via email. "At Democratic rallies, nobody gets applause by calling for compromise."
True enough. California's open primary system, which advances the top two candidates to the general election regardless of party, might complicate a challenge from the left. The system was designed to favor moderates. (Whether it actually does is harder to discern.)
Still, if the left can't knock out one of the oldest and most moderate Democrats -- in California of all places -- it's hard to see how the 2020 presidential race would devolve into a bidding war to deliver the bounties of socialism.
Perhaps the long-promised Democratic radicalization is not all that far along, or maybe not even real. Democrats will wrangle over Medicare-for-all, debt-free college, basic incomes, financial regulation, Black Lives Matter and more in 2020. There will be pressure, as always, for candidates to differentiate themselves, and a strong temptation to do so by staking out terrain on the left.
Without a Deus ex Mueller intervention in the presidential stakes, however, those matters will likely fade before the all-consuming issue before the party and the nation: Who is best equipped to end the existential threat in the White House?
Democrats will focus on who can best avert what Republican Senator Bob Corker called the rising risk of "World War III." They will be looking for the most effective counter to what Secretary of State Rex Tillerson reportedly referred to as the "moron" in the Oval Office. The daily threat to peace, pluralism, dignity and decency will frame and dominate the 2020 Democratic debate.
Perhaps a few more Democrats are ready to indulge in radicalism. Mostly, they will be judged on their capacity to rescue the republic. Feinstein's fate will provide a telling clue about Democratic priorities.     
To contact the editor responsible for this story:
Katy Roberts at kroberts29@bloomberg.net
Before it's here, it's on the Bloomberg Terminal.
LEARN MORE