Politics
Trump's Poor Hiring Decisions Are Piling Up
With so many vacancies, firing his secretary of state may be too costly for Trump's administration. Plus, your morning political reads.
by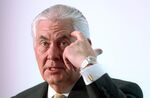 More evidence that Donald Trump is the weakest president in modern history: There were reports Wednesday that he is unable to fire Secretary of State Rex Tillerson because Tillerson is part of a "suicide pact" with Treasury Secretary Steven Mnuchin and Defense Secretary James Mattis, in which all three would leave if Trump threatened to fire any of them. 
Intriguing, yes. But I'm somewhat skeptical of this one. It's not clear why the three of them would be aligned together, while a counter-rumor seems at least on the surface to make a lot more sense: a suicide pact between Mattis, White House Chief of Staff John Kelly and national security adviser H.R. McMaster. That said: If true, either pact (or maybe both! Or maybe there are more!) would certainly be a challenge to the president's influence over executive branch appointments. 
Even if neither of these are true, there's still a very good reason why Trump didn't fire Tillerson after the news leaked that the secretary of state had referred to the president as a "[expletive] moron." Trump already has two cabinet vacancies: He's gone over two months now without nominating a secretary of homeland security, and he's also recently lost his secretary of health and human services. At least three other cabinet secretaries are currently immersed in scandals similar to the one that took down HHS Secretary Tom Price. Perhaps those will all fizzle out, but it's at least possible that Trump will wind up with additional vacancies, which makes firing his secretary of state even more costly than it would normally be.
In other words, previous mistakes are constraining the president's current choices. And he's made so, so many mistakes.
Remember, in addition to Price, Trump has already had to replace the White House chief of staff, national security adviser, press secretary, communications director (twice), FBI director and the head of the Office of Government Ethics. Plus chief strategist Steve Bannon, and several lower-level White House and National Security Council staffers have left. One or two people leaving this soon wouldn't be unusual, but put it all together and it suggests -- as was obvious at the time -- an inept job of selecting people during the transition. 
Unfortunately, there's nothing Trump can do about that now, and the good news is that most of the replacements, especially at key policy-making jobs, seem to be a solid group. At least, where replacements have been found.
The problem with Tillerson in particular is that he probably really should be gone from State. If he's managed to buy himself some Mattis insurance, it would be the most competent bureaucratic move we've seen from him so far, but it's still not enough evidence that he's right for the job. Still, Trump probably is better off keeping him around -- at least until some of the other holes in this administration are filled. 
1. Philip Rocco at the Monkey Cage defends "sociological gobbledygook."
2. My View colleague Meghan L. O'Sullivan on what the U.S should do to keep the Kurdish crisis from getting any more damaging.
3. Aaron Mehta on why the empty desks at the Department of Defense matter. Also true about Treasury, State and on down the line. 
4. This one isn't going to make a lot of noise, but there's more evidence that the Obama-era IRS scandal was a dud. Turns out the IRS targeted liberal groups as well as conservative ones for extra scrutiny. Mike DeBonis reports at the Washington Post. 
5. My View colleague Timothy L. O'Brien on Trump's relationship with middle-class taxpayers. 
6. And Jonathan Chait on the Republican tax reform plan. 
To contact the editor responsible for this story:
Mike Nizza at mnizza3@bloomberg.net
Before it's here, it's on the Bloomberg Terminal.
LEARN MORE