Sports
I'm Fed Up With Football and Bullish on Baseball
I used to crave gridiron violence; now it turns me off. And today's boys of summer are actually interesting.
by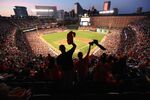 I grew up a pro football fanatic; now I don't go to football games and watch them only occasionally on television. But I've grown obsessed with the Major League Baseball playoffs, worrying almost as much about whether my Washington Nationals will survive as about whether we'll all survive President Donald Trump. 
My wife has reluctantly agreed to go with me on Friday night to watch the Nats take on the Chicago Cubs in the first game of the National League Division Series. She knows I'll be on edge for three hours. 
I won't be alone. Nor am I a lonely turncoat when it comes to sporting allegiances. Professional football, America's real pastime for a generation, feels like an obsession in decline.
Baseball, a declining asset not long ago, is full of promise. As the baseball playoffs commence with the National Football League season in full swing, pro football attendance and TV viewership are down for number of teams. (No, Mr. President, it's not because players are protesting racial injustice).
I'm not sure why and don't really care because I'm too busy anticipating the contests between some terrific baseball squads — four of the playoff teams won more than 60 percent of their regular-season games — along with the Cubs' first defense of a World Series title in 108 years.
This isn't where I started. One of my closest childhood friends was Steve Sabol who, with his dad Ed, founded NFL films and thus played a huge role in making pro football the most popular and richest sport. Before the 1962 NFL championship contest at Yankee Stadium (the Green Bay Packers beat the New York Giants 16-7), the only games Ed filmed were the ones played by our high school football team near Philadelphia. We were small, and slow motion was a redundancy. But we had a tower, where Ed filmed, bigger and badder than the University of Alabama's.
For decades there were marquee stars like Johnny Unitas, Gayle Sayers, Joe Montana, Jerry Rice and later Peyton Manning and Tom Brady, not to mention anybody who played for the Packers in the 1960s. Part of what made the game irresistible was the violence of fearsome linebackers like Chuck Bednarik of the Philadelphia Eagles and Dick Butkus, a synonym for Da Bears.
It's that violence that now turns me off. The NFL for years tried to cover up the long-term implications of injuries, especially concussions. That's no longer possible, with stories of former players suffering from early dementia and deceased players whose autopsies reveal serious brain damage. The latest was the New England Patriots' former tight end, Aaron Hernandez, who four years ago was indicted and then convicted of murder. This year, at age 27, he committed suicide in prison. Doctors who examined his brain disclosed that he had a severe case of chronic traumatic encephalopathy, a degenerative brain disease linked to repeated head trauma.
A 2015 movie, "Concussion," starring Will Smith as a pathologist investigating brain injuries, dramatized the game's crisis. A number of prominent former stars, including Terry Bradshaw, Troy Aikman and even the ultimate tough guy Mike Ditka said they wouldn't want sons or grandsons to play football.
Parents are prohibiting their young children from taking up the game. Some high schools are dropping it. My son didn't play football, and I hope no grandson will. 
To me, today's game lacks the larger-than-life teams and rivalries of its earlier years. Nor with the exception of Brady, the Green Bay Packers' Aaron Rodgers and a few other quarterbacks, are there big-time marketing stars. 

By contrast, baseball has plenty of big-ticket performers: Mike Trout, Bryce Harper, Giancarlo Stanton, Clayton Kershaw, Max Scherzer, Chris Sale and the Lilliputian Houston Astros powerhouse Jose Altuve. Sensational newcomers include the Brobdingnagian New York Yankee powerhouse Aaron Judge and the Los Angeles Dodgers' Cody Bellinger, who between them hit 91 home runs this year. Even an avid Yankee-hater like me can't resist the appeal of Judge's brawn and good humor. (It should be noted that Major League Baseball owes a big debt of gratitude to politicians, especially former Representatives Tom Davis and Henry Waxman and ex-Senator George Mitchell, who forced it to deal with its drug scandals.)
Baseball has problems. The games are too long. There are fewer African-American players than in decades past. 
But a day at a baseball park is less expensive, less time consuming, more intimate — I really think I know Max Scherzer even though I've never met him — and more fun than most NFL games. I can't stop talking about our newest closer, Sean Doolittle, who with his wife, the comedy writer Eireann Dolan, champions veterans and gay rights.
There are compelling narratives in the current playoffs. Can the Cubs do it again? Are the Yankees really back? Can the Cleveland Indians or a team from Washington win a first World Series in 69 and 93 years respectively? Will the Houston Astros give that hurricane-ravaged city some needed cheer?
I don't know if pro football will go the way of boxing, but I'm confident that baseball is prospering as it did when Sandy Koufax and Henry Aaron stalked the diamond. 
And after Friday, the Nats will only have to win 10 more!
To contact the editor responsible for this story:
Jonathan Landman at jlandman4@bloomberg.net
Before it's here, it's on the Bloomberg Terminal.
LEARN MORE