Federal Reserve
A Recession Would Be the Biggest Challenge for the Next Fed Chair
Rates can't be cut much lower. So what would the central bank do?
by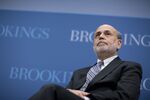 What would the next Federal Reserve chair do to combat a downturn?
It's a question that hasn't had much airtime as Donald Trump weighs a shortlist of candidates. Much of the discussion has been about whether contenders are more inclined to raise or cut interest rates.
The assessments focus on the short to medium term. That's a pity. Look a bit further ahead for the bigger risk and the bigger questions.
Gross domestic product rose more than 3 percent in the second quarter, the jobless rate is 4.4 percent, and recent readings on manufacturing and services were both upbeat. Seems healthy -- but this expansion is getting a bit long in the tooth. 
As healthy as it seems, the growth streak is in its ninth year. (I know to some people it doesn't seem that way.) At some point, history tells us, the business cycle will turn. I'm not predicting the American economy is headed for recession soon. But there's a decent chance it may happen in the next chair's four-year term, whether that person is incumbent Janet Yellen or one of the other people reported to be under consideration.
What then? The traditional first response from monetary policy has been to cut interest rates. And that's fine, but the Fed's cautious approach to raising them, this year's consistency notwithstanding, means there isn't a lot there to trim.
Surely there is a role for fiscal policy, you might say. Well, good luck with that. Getting Congress to move during the last slump was tough enough, and things are even more polarized now. And the legislative struggles over bank rescues and stimulus left scars.
So it may be down to the Fed. Interest rates are low for this late stage in the cycle, in large part because inflation is quiescent. The benchmark federal funds rate is now in a range between 1 percent and 1.25 percent. Over the longer run, the Fed projects the rate will reach about 2.8 percent. 
So the Fed has a bit more work to do. But at 2.8 percent, that level is well short of where the interest rate was at the peak of the previous two cycles. In 2007, the federal funds rate was 5.25 percent before cuts began. In 2000, it was north of 6 percent. Both positions gave the Fed far more room to cut when the economy slowed.
If the next downturn is a garden-variety recession, there might be enough scope for cuts to get things moving again. But what if the central bank gets to zero without the desired effect? Then what?
Quantitative easing, a radical step the Fed undertook in the depths of the global financial crisis, was an appropriately creative response to an economy rapidly losing altitude. Such a program of bond-buying is typically undertaken when rates are at or near zero and the economy needs still more juice. But it does come at a cost. As my Bloomberg View colleague Tyler Cowen wrote, former chair Ben S. Bernanke ate up a lot of political capital with QE.
So where will the Fed's leadership take us when the next slump comes, as it surely will? Here's hoping that question gets an airing soon. The Senate Banking Committee, which must vet Trump's nominee, has a golden opportunity to address the issue. That would be a real public service.
To contact the editor responsible for this story:
Philip Gray at philipgray@bloomberg.net
Before it's here, it's on the Bloomberg Terminal.
LEARN MORE