Prophets
Europe's Bond Markets Are Only Getting Uglier
High-yield securities have entered a sort of "no-man's land" where the risk-pricing mechanism has defaulted to government intervention.
by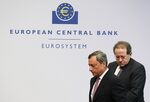 It is not a single story, but a series of incidents, that is moving me to the view that Europe is in real trouble. The politicians will say how well things are going on the Continent, but a broad assessment of what is happening leads to a very different conclusion.
With the failure of Banco Popular, and then several of the Italian banks, new precedents have been set. Institutional investors have either suffered heavy losses or been wiped out, while local bondholders were "mis-sold" securities and got all of their money back. How convenient. The reality is that bank indentures in the European Union now have no meaning. You can read them, but they can't be trusted as they are little more than dried ink scribbled on paper.
If bank bonds can be "mis-sold," then it becomes obvious that anything in any bank indenture can be changed for political purposes. No "rule of law," no "due process," and absolutely no way to know what you are buying. And if the EU can do this with banks, then they can do this with any other indentures. "Mis-sold" could apply to sovereign debt or corporate debt or the debt of the EU itself. "Mis-sold" has endless possibilities.
The EU, due to the actions of the European Central Bank, has also driven much of its members' sovereign debt into negative-yielding territory. Germany, France and the Netherlands have five-year bonds that yield less than zero. This is happening even as five-year U.S. Treasuries yield about 1.90 percent, or 2.22 percentage points more than similar maturity German bunds.
If that isn't shocking, then consider the European high-yield bonds. The Bank of America Merrill Lynch Euro High Yield Index now has a yield of 2.30 percent. That's the exact same as the U.S. Treasury 10-year note. During the height of the 2008-2009 financial crisis, the index was yielding around 25 percent. This convergence shows how the nations of Europe are far more involved with their banks and their asset management firms than the U.S. government. Socialism is hard at work on the Continent, in my opinion.
Governments in Europe "encourage" their financial institutions to buy corporate debt. But understand that the governments in Europe can steer money in and out of institutions, and do so with great regularity. In effect, the word "encourage" actually means "force" on the Continent when it comes to monetary matters of this sort.
This situation wasn't only caused by the ECB and its printing of money, which has left it with more balance-sheet assets than even the Federal Reserve. The "encouragement" from European governments also has moved high-yield bonds into a sort of no-man's land where the risk-pricing mechanism has defaulted to government intervention.
No one in their right mind 10 years ago would have thought we would have negative interest rates, and yet almost $10 trillion of bonds globally are now in that space. That's why what the Fed is doing has some importance, but that is not nearly as important as the actions of other central banks. This nirvana of low yields, or no yields, for sovereign governments is a dream come true, as they can fund social programs for virtually nothing.
This same dream, however, is a nightmare for investors as they pay various borrowers for the privilege of holding their money in a sort of wonderland. Europe has gone down the rabbit hole and has taken both the blue pill and the white pill and has become addicted to the thrill of paying nothing, or next to nothing, for almost everything.
Now, Moody's Investors Service notes that the escalation of conflict and tensions over Catalonia's independence vote have negative credit implications for Spain because they complicate the process of legislating policy, including a 2018 budget. The head of the Catalan government has announced that the region will probably declare independence as early as this weekend. Prices of Spanish bank securities are getting hit along with sovereign debt.
There are major implications not only for Spain, but also for the EU, as Spain may literally come apart. One more reason to think carefully about European investments. This may be a bad dream, coming true.
To contact the editor responsible for this story:
Robert Burgess at bburgess@bloomberg.net
Before it's here, it's on the Bloomberg Terminal.
LEARN MORE