Iraq
The Kurdish People Lost a Revolutionary and a Statesman
Through alliances with Iran and later the U.S., Jalal Talabani remained principled.
by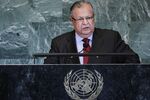 It's telling that at the moment Jalal Talabani, the former Iraqi president and Kurdish revolutionary, drew his last breaths, Iranian tanks were amassing on the border of Iraqi Kurdistan.
In the Kurdish civil war of the 1990s, Talabani's faction, the Patriotic Union of Kurdistan, aligned with Iran. The Iranians tacitly supported Kurdish independence. After the liberation of Iraq in 2003, Talabani often served as a back channel between the U.S. and the Iranians.
And yet in Talabani's final days, Iran conspired with governments in Baghdad and Ankara to punish Iraq's Kurds for a referendum expressing their desire for independence. This was a cause to which Talabani devoted much of his life. From his organizing for Kurdish autonomy at the University of Baghdad as a law student, to decades leading an armed resistance to Saddam Hussein from the mountains of northern Iraq, Talabani was an icon of Kurdish nationalism. 
In his later years he also became an icon of a multi-ethnic Iraqi state. On April 6, 2005, Talabani was elected by the Iraqi parliament as the first president of a free Iraq, a position that was largely ceremonial, but immensely important. Here was a Kurdish revolutionary who now was a living symbol of a pluralistic and federal Iraq. Talabani used his office to hold the dream of a free Iraq together.
For most people these tensions might be dismissed as the supine compromises of a politician. But Talabani was different. He retained his principles. As president, Talabani opposed the death penalty for Hussein. (He lost that argument, and Hussein was executed.) Talabani was a symbol of a unified Iraq, and yet he helped negotiate considerable autonomy for the Kurdistan Regional Government in the writing of Iraq's constitution. To this day, Kurdish officials stamp the passports of foreigners at the international airport in Irbil. His former rival, Massoud Barzani, became the leader of the regional government, a position with real political power.
John Lee Anderson summed up Talabani's flexibility in a brilliant 2007 New Yorker profile as follows: "He is probably the only person in the world who can claim, truthfully and unapologetically, to have kissed the cheeks of Secretary of State Condoleezza Rice and President Mahmoud Ahmadinejad of Iran." This pragmatism was in the service of achieving independence and dignity for the Kurdish people.
I came to admire and know Talabani as a younger reporter covering the Iraqi opposition in the years before the Iraq War. What impressed me then was how he had empowered a younger generation of Kurdish leaders committed to building a real state in the Iraqi provinces U.S. forces had protected from Hussein in the aftermath of the 1991 Gulf War.  
Today this labor is bearing fruit. Iraqi Kurdistan has the foundations of a free Kurdish state, even if its independence will cause dissolution of a free Iraq. This is in no small part because of the diligence and pragmatism of a revolutionary statesman: Jalal Talabani.
To contact the editor responsible for this story:
Philip Gray at philipgray@bloomberg.net
Before it's here, it's on the Bloomberg Terminal.
LEARN MORE