Brexit
Can Corbyn Finish What He Started in Britain?
Labour's rising, but its agenda doesn't stand up to scrutiny.
by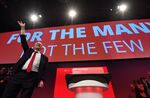 A few months ago, no one would have noticed British opposition leader Jeremy Corbyn's address at the annual conference of his Labour Party. But that was before he engineered its biggest increase in vote share since World War II after Theresa May gambled on a snap election and lost her majority.
The election, Corbyn told the Labour faithful Wednesday, "has put the Tories on notice and Labour on the threshold of power." That's probably an exaggeration, but not a huge one.
There is no question that the party has come a long way since the bitter in-fighting of last year's conference. The Guardian wrote afterwards: "Labour now feels like two parties that don't like each other any more but cannot afford to get divorced." That's as apt a description of the Tories today.
Theresa May's Conservatives have come a long way too -- only in the opposite direction. Cabinet members "go on maneuvers" against each other, write long articles meant to force policy changes, and engage in remorseless back-stabbing. Too good an opportunity to pass up, Corbyn spent much of his speech lampooning Tory policies and missteps -- to the delight of his audience. But he also set out his own stall, offering a role for "a new common sense" economic model that would make pre-Emmanuel Macron's France look laissez-faire.
The day of reckoning may be a long ways off. But the parties are neck-in-neck in the polls, and it would be unwise to rule out the possibility of Jeremy Corbyn doling out cabinet posts. So, it's worth asking whether this self-described government-in-waiting would do any better.
On Brexit, the bar is low: a united party position on the negotiations between the U.K. and the European Union. Labour would also struggle to clear it.
Nearly 40 percent of Labour voters wanted to remain in the EU. Still, many of the 21 percent who voted to leave reside in key Labour constituencies, and many more potential votes from other parties, of course, backed leave as well. The party's official line is that it wants to remain in the single market during a transition period (the Conservative position), but some Labour leaders (including shadow Foreign Secretary Emily Thornberry) want that door kept open for longer. At the fringes of the conference -- where groups that aren't given a central platform hold court -- the debate raged.
Voters may not blame Labour for its divisions over Brexit, but will they accept what is the most radical economic agenda any Labour leader has put forth since the 1970s?
As he spoke on Wednesday, Corbyn was surrounded by more red than a Politburo meeting. "FOR THE MANY NOT THE FEW," the slogan of the conference, screamed above him.
He outlined an expansive agenda that included nationalizing the railway, energy companies and Royal Mail; increasing funds for public services; erasing the cost of college tuition; expanding vocational training; and rolling out rent controls. The Grenfell Tower tragedy -- in which a council-owned tower block with social housing residents burned, killing at least 80 -- was held up as a symbol of inequality and greed under Conservative rule.
In a recent interview with Politico's Susan Glasser, former Labour leader Tony Blair worried the party was promising nothing more than a smorgasbord of freebies. "In the end, I think a lot of these solutions aren't really progressive," he said.
Blair was being charitable. Economically, the policies are a recipe for driving away investment, slowing growth and introducing new fiscal burdens without balancing them elsewhere. The idea of "a publicly owned engine of sustainable growth" is the ultimate oxymoron. It's exactly the kind of post-Brexit environment the country needs to avoid. Labour acknowledged as much when Shadow Chancellor John McDonnell said the party was scenario planning for a run on the pound if it got elected, an own-goal perfectly captured by City A.M. morning paper with the headline "Labour could cause a run on the pound, warns Labour."
Corbyn rejects the idea that his radicalism is anything but common sense. And for many it might seem that way. He is onto something when he addresses "low and middle earners, self-employed and employed, facing insecurity and squeezed living standards." His bet is that the center has shifted hard to the left and the Tories look as out of touch now as Labour did only a short while ago.
It's a left-wing populism that hasn't yet met with much electoral success -- not for Bernie Sanders in the U.S., not for Jean-Luc Melenchon in France. And yet each country had a more attractive, populist option to challenge the left-wing populism; in Britain, Corbyn is in a class of his own.
To contact the editor responsible for this story:
Mike Nizza at mnizza3@bloomberg.net
Before it's here, it's on the Bloomberg Terminal.
LEARN MORE