Economics
Maybe the Inflation Model Is Off. Got a Better One?
Central banks are increasingly open to new ideas about the relationship between employment and inflation.
by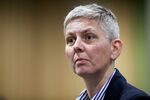 The world's big central banks are pretty good at sticking to the party line. Inflation is stubbornly slow, but there's not a groundswell for ditching the idea that ultimately prices and wages will climb meaningfully. In the U.S., it may mean the jobless rate drops to, say, 4 percent or 3.5 percent before it happens. (It's now 4.4 percent.)
Federal Reserve Chair Janet Yellen did acknowledge other possibilities this week in her speech to the National Association for Business Economics. She's prepared to countenance the idea that officials may be missing a few tricks in their understanding of inflation and that tectonic global forces may be shaping prices at least as much, or more than, the labor market.
She's not the only sharp central banker who is opening her mind. Last week Luci Ellis of the Reserve Bank of Australia touched on a number of interesting related points: the global upswing now underway, prospects for it staying alive, and how tough it can be to spot changes in cycles coming. Given the RBA's enviable record of a quarter century of economic growth, what its top officials say is worth listening to.
Ellis, the bank's assistant governor for economics, notes the global phenomenon of relatively strong growth, anemic/receding inflation and the feeling that pay rises just haven't matched the durability of that global expansion, now in its eighth year. If inflation continues to lag while employment is high, she warns, we may be in for a serious rethink.
Just not yet. "We believe that, ultimately, the forces of supply and demand do assert themselves," Ellis said. "Wage growth and inflation should therefore pick up in these economies at some point. However, it could take a while."
She went on to warn that if "inflation stays low despite reasonable growth in a range of economies, policy makers will face a challenge. In that scenario, policy still needs to remain appropriately expansionary while avoiding further build-up of leverage and financial risk." 
That will take quite some doing. Officials could achieve their inflation targets, usually around 2 percent, by keeping interest rates very low -- but at the cost of inviting significant problems with the stability of the financial system down the road. (We've seen how that can work out.)
Perhaps inflation is yesterday's battle. Whether it's too high, as in the 1970s and '80s, or too low, as in recent years.  
One major challenge for closely watched officials like Ellis and Yellen is the rather awkward optics of publicly acknowledging that something is wrong with our understanding of how the economy works -- and not having an alternative model to advance. While many central banks are independent to at least some degree, they aren't immune from political and public scrutiny. They would likely get pilloried.
The model that gets the most attention at the moment is the Phillips Curve, developed by economist William Phillips about 60 years ago, which links declining levels of unemployment with rising pay and prices.
To those who keep telling central bankers that the Phillips Curve no longer applies: Well, show us an alternative model!
That's a whole lot tougher.
To contact the editor responsible for this story:
Philip Gray at philipgray@bloomberg.net
Before it's here, it's on the Bloomberg Terminal.
LEARN MORE