Federal Reserve
Yellen Knows Enough to Admit What She Doesn't Know
The Fed chair concedes that inflation models could be off "in some fundamental way." Good for her.
by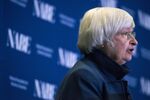 Janet Yellen still has faith, but she's open to converting.
In a wide-ranging speech on inflation, the Fed chair wrestled with an issue that's flummoxing policy makers everywhere: Why is inflation not only low, but in some instances going south? At this point in an expansion that's lasted the better part of a decade and has returned jobless levels to pre-recession levels, leading economic models would ordinarily tell us to expect inflation to rise. 
Kudos to her for admitting the uncertainty. The question is one of the pre-eminent themes of the modern economic era. It's perhaps fitting she air the issues not in a political environment like Congress or the Federal Open Market Committee, which calls for decisions, but in what might be her last address to the National Association for Business Economics.
Yellen conceded that some assumptions about how the modern economy works could be wrong. She is not operating on the premise that they are wrong, but she is prepared to entertain the prospect. She did so in a very rational way, and she urged no sharp about-turns in policy. If officials' understanding of the link between inflation and the labor market and, more broadly, inflation itself, ends up being flawed, then there is an obligation to recalibrate policy. 
Neither Yellen nor the FOMC are there yet. And to be clear, the committee still believes inflation will again start to edge up and stabilize around the Fed's 2 percent target. Under that scenario, a bit more tightening of policy is required. Not a ton, and the steps should be gradual. As they have been.
If the scenario proves off, then think again. As Yellen said in her remarks, a couple of things could be at work in explaining the bad behavior of inflation.
For one, it's not necessarily that the model linking low unemployment with wages and inflation is wrong; it may be that in the post-recession world the jobless level at which inflation kicks in could be lower. (The jobless rate in the U.S. now is 4.4 percent.)
But it's also plausible that policy makers misunderstand inflation on a more fundamental level. "Our framework for understanding inflation dynamics could be misspecified in some fundamental way, perhaps because our econometric models overlook some factor that will restrain inflation in coming years despite solid labor market conditions," Yellen said.
Receding health-care costs could be at work here, as might the relentless forces of technology and competition in the retail industry. Margins are tight, and firms might be unwilling or unable to raise prices even if demand is up.
Then there are the global forces unleashed by the entry of China and other emerging markets into the world economy. They didn't just make goods cheaper. They effectively swelled the global labor market. In other words, you aren't just competing for work with someone down the block, but with someone in another continent as well. Claudio Borio of the Bank for International Settlements touched on this last week. (A footnote in Yellen's speech refers to earlier work by Borio and others.)
It's entirely possible that inflation will resume its rise soon. That's an argument for continuing to withdraw stimulus, and for being confident about it -- not maintaining so much stimulus for so long that inflation zooms very far above the target rate. But 2017-style inflation is not the inexorable force we once knew. There's a risk in cutting stimulus too quickly.
There's more work to do to raise interest rates, but not an awful lot more as things stand. It's clear there's significantly more to do to understand inflation. 
Yellen's term is up in February. Who knows whether she will be at NABE's annual conference next year, and in what capacity? Regardless, she has done a real public service with this speech.
To contact the editor responsible for this story:
Philip Gray at philipgray@bloomberg.net
Before it's here, it's on the Bloomberg Terminal.
LEARN MORE