Brexit
Theresa May Shows Europe She's No Margaret Thatcher
Thatcher spoke loudly in a 1988 speech, and carried a big stick. On Friday, May spoke softly. No stick.
by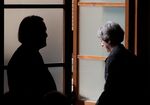 Margaret Thatcher redefined the U.K.'s relationship to Europe in 1988 in a fierce speech on the continent that chastised her European partners while promising to stick with them. Twenty-nine years later, Prime Minister Theresa May made a similar journey to do the opposite. In a speech Friday in Florence, May addressed continental Europe softly, about separation.
When Thatcher went to Bruges, Belgium, she scolded her European partners for being protectionist, illiberal and too attached to stifling, sovereignty-destroying bureaucracies. Her tone was challenging, even brash. EU officials were affronted and angry. But she assured them of Britain's good faith as a committed European. "Britain," she said, "does not dream of some cozy, isolated existence on the fringes of the European Community."
May spoke from those very fringes; her pitch was that Britain will be a good neighbor. Her conciliatory tone reflected the U.K.'s relative weakness as it negotiates the terms of the exit from the European Union that its citizens voted for in June, 2016. There were no hard demands, only promises of concessions and pleas for more time.
Thatcher's speech opened up new divisions in her own cabinet and became a rallying cry for a growing Euroskeptic movement; it sped her eventual downfall. May inherited her party's deep divisions on Europe and her speech glossed over them, but the cabinet solidarity on display in Florence already showed signs of cracking by the end of the weekend. The opposition Labour Party is preparing its troops for a snap election.
While Thatcher believed strongly in the single market, May has had to concede that Britain is heading out of it. She promised that the U.K. would continue to pay into the EU budget during a proposed transition period (of "about" two years) and that the rights of EU citizens in Britain would be guaranteed, with British courts taking European Court of Justice rulings into account (something Brexiters staunchly opposed). These go some way to meeting European demands that are a precondition for talks on the new trade deal Britain seeks. But her speech was short on specifics.
The EU's chief negotiator, Michel Barnier, characterized her statements as a "step forward" but said that they "must now be translated into a precise negotiating position of the U.K. government." French President Emmanuel Macron was more pointed: "Before we move forward, we want to clarify matters concerning the settlement of European citizens, the financial terms of exit and the question of Ireland, he said. "If these three points are not clarified, we will not be able to advance on the rest."
Macron can't be indifferent to what kind of deal emerges: The U.K. is one of France's largest export destinations. Nor can other major EU economies. A Spanish government report leaked to El Pais in March said that Brexit would hurt Spain's economy, with everything from fisheries to Spanish soccer players taking a hit.
Still, May would be foolish to believe that economic interest trumps the greater political interest in seeing the European project succeed. The retreat of a populist threat and much rosier economic growth may ironically make Europe less eager to agree to terms that allow the U.K. to claim a victory.
In that sense, the call by her foreign secretary, Boris Johnson, for a "glorious" future outside Europe may have pleased Brexiters, but doesn't reflect the reality today. The U.K. economy has already lost momentum since the Brexit vote and while it will remain large and diversified, there is more pain to come.
Whether her cabinet, and party, will back May as she defines the negotiating terms is the big question. May rejected a free trade agreement comparable to the EU's new pact with Canada as offering too little. She also rejected a Norway-style arrangement as too encroaching. She didn't say what the middle ground should be.
She held out the carrot of a "bold new strategic agreement that provides a comprehensive framework for future security, law enforcement and criminal justice co-operation." That is better than the empty and irresponsible threat in March of withdrawing security cooperation if the EU didn't lessen the pain of Brexit. But what additional cooperation? She didn't say.
History shows that Thatcher knew what she wanted in 1988, and got a lot of it. The EU did eventually shed its most illiberal policies and open up. It just concluded an expansive trade agreement with Canada and is finalizing one with Japan. Its largest member, Germany, took in over a million refugees. There is still the huge bureaucracy and sovereignty-pooling that Thatcher hated, and which Brexiters rebelled against, but today the EU doesn't seem as inward-looking as the one member who voted to leave. 
To contact the editor responsible for this story:
Jonathan Landman at jlandman4@bloomberg.net
Before it's here, it's on the Bloomberg Terminal.
LEARN MORE