Economics
The World Can't Stop Borrowing Dollars
All that debt complicates the Fed's efforts to keep growth on track.
by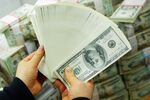 Companies and governments around the world can't seem to stop borrowing U.S. dollars. This could be a problem, both for them and for the Federal Reserve.
Not long ago, it seemed as though a global boom in dollar borrowing had to be reaching its limit. Encouraged by near-zero interest rates, non-U.S. borrowers had binged on trillions in new dollar-denominated debt. With the central bank aiming to increase rates and the U.S. currency rising, strains were beginning to show, as companies struggled to pay back the dollars with devalued local-currency earnings.
Yet the party keeps going, perhaps thanks to the Fed's extremely gradual pace of rate increases and a related decline in the dollar's exchange rate. According to the Bank for International Settlements, total dollar borrowing outside the U.S. reached $10.7 trillion in the first quarter of 2017, up about 6 percent from a year earlier and up 83 percent from 2009. Here's how that looks as a percentage of non-U.S. gross domestic product:
About a third of the debt is owed by companies and governments in emerging markets, where the relatively high volatility of earnings and exchange rates can make dollar borrowing particularly risky. Here's the dollar-denominated debt of the countries that the BIS tracks, as a percentage of their GDP:
To be sure, some of the debt might not be too burdensome if borrowers have a lot of dollar revenue from, say, oil exports (think Russia and Saudi Arabia). But to the extent that the obligations aren't hedged, they will make the world more sensitive to the Fed's interest-rate moves. And if future rate increases trigger belt-tightening and defaults abroad, the malaise could easily spread back to the U.S., complicating the Fed's efforts to keep growth on track.
So the world is becoming increasingly exposed to the Fed, which leaves the Fed increasingly exposed to the world.
To contact the editor responsible for this story:
James Greiff at jgreiff@bloomberg.net
Before it's here, it's on the Bloomberg Terminal.
LEARN MORE