Brexit
No, Boris. A Trump-Led Brexit Wouldn't Be Glorious
The U.K.'s foreign minister is dreaming if he thinks the U.S. will give Britain a better deal.
by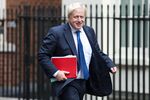 When it comes to Brexit, views don't get much rosier than Boris Johnson's. The mop-haired U.K. foreign secretary thinks there's a chance for a "glorious" exit from the European Union, especially if it's accompanied by a reinvigorated special transatlantic relationship with Donald Trump. The inconvenient truth is that the Anglo-American couple has rarely looked this odd.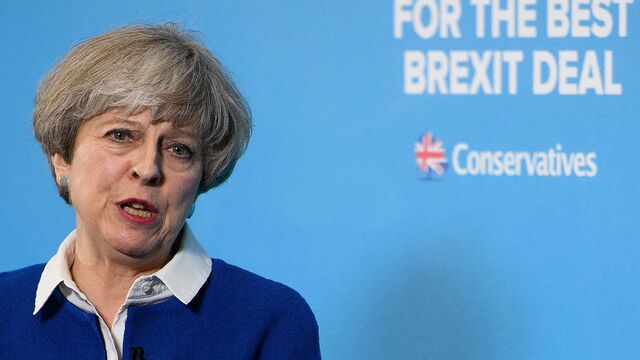 Johnson and other ardent Brexiteers believe the cost of exiting the EU, even in a hostile manner, will be outweighed by two things: trade and Trump, preferably together. "We have a duty in the U.K. government to have strong, dynamic, vibrant relations with our number one ally and the most powerful nation on Earth," he told The Guardian on Tuesday.
Johnson has been front-page news in Britain all week after he wrote a 4,200-word ode to Brexit that described the U.K. as "the second-greatest power on Earth after America" -- a former British colony, he noted. Johnson sees a U.S. trade deal as a Brexit dividend, and pitches the U.K. as a balancing and influencing force on America.
There's no doubt that Johnson and Trump share some common ground: They were both born in the U.S., idolize Churchill and like to bash a German-led EU. And from a geopolitical point of view, after a century of failed attempts to turn a diminished post-empire Britain into an influential Atlantic gateway to Eurasia, the opportunity seems ripe for a closer transatlantic alliance. This view has been put forward by Henry Kissinger, who has said a post-Brexit Britain might return to its roots as an Atlantic bridge and a defender of Western security.
But despite the sense of opportunity, the special relationship right now is even more lopsided than it has been historically. While Britain likes to describe the U.S. as its single biggest trading partner, suggesting a negotiation on equal terms, it's not that simple. The U.S. is Britain's biggest export market and its second-biggest import market on an individual country basis -- but U.K. trade flows with the EU as a whole are far larger. Britain's total trade with the European Union was about three times its flows with the U.S. in 2015, or 513 billion pounds ($695.9 billion), according to the Office for National Statistics.
And while Trump might be emotionally attached to a "very big and exciting" trade deal with a post-Brexit Britain, American negotiators will probably focus on getting the best deal, sector-by-sector, regardless, especially given such a deal would need to be signed off by Congress. What this likely means in practice is getting more American goods flowing into Britain -- including goods that weren't allowed in when the U.K. was an EU member, such as chlorine-washed chicken and hormone-fed beef. It's hard to imagine Britain having the leverage to say "no." It's harder still to imagine what that would mean for the U.K. border with Ireland, where customs officials would no doubt want to take a closer look at food shipments from the British side. Johnson has said in the past a solution to the Northern Ireland border is achievable; a deal with Trump complicates it.
Trump's own attitudes might also harden once he takes a closer look at the U.K.'s trade relationship with America, which includes a goods trade surplus. The Donald doesn't like it when foreigners "cheat" America -- it looks too much like an artless deal, whether it's with a big country like Germany or a small country like Finland. And a longstanding protectionist, there's no indication Trump would give the Brits a free pass. U.K. banks would still likely have to form new subsidiaries to sell their services on Wall Street; U.S. drug firms would still seek to dramatically hike prices when selling to the National Health Service.
The rose-tinted view of Brexit Britain as a globe-trotting trade powerhouse sounds attractive but doesn't match the complexity of commercial ties in today's globalized world. Trade deals are as much about regulatory alignments as they are about erasing tariff barriers, which are already relatively low for Britain at around 2.3 percent on average for non-agricultural goods on a trade-weighted basis. Even converting existing EU trade deals with Canada or Japan into bilateral arrangements with the U.K. would be tricky, given British reliance on components produced abroad.
Perhaps Johnson and his allies don't want the facts to get in the way of a good story -- which is that Brexit should be something to boast about, not a cause for compromise or regret. The problem is that any politician would need a lot of political capital to sell a deal with Trump as a success, given the imbalanced nature of the relationship. And right now, the political momentum is with neither Johnson nor May, but Jeremy Corbyn, a Labour leader with a history of unease with military spending, nuclear weapons and free trade. That would be a special negotiation indeed.
To contact the editor responsible for this story:
Therese Raphael at traphael4@bloomberg.net
Before it's here, it's on the Bloomberg Terminal.
LEARN MORE