Early Returns
Defying Ethics Norms Flies With Trump
Jonathan Bernstein's morning links.
by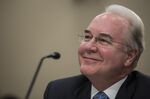 Health and Human Services Secretary Tom Price has been taking fancy charter flights when previous secretaries flew commercial.
Well, what do you expect? Just think about the incentives in a normal administration and in this one. 
Normally, the president sets a reasonable example of good ethics practices. Oh, there are sometimes controversies, but normal presidents avoid conflicts of interest, follow the guidelines of ethics officials and other best practices, and generally act as if they care about the appearance, at least, of playing by the rules. This president has basically ignored ethics laws and norms from the beginning. It must be hard to care about saving the government a few dollars when the president is using his office to, for example, advertise his business interests. 
In a normal administration, no one wants to be the one who creates a scandal. Cabinet secretaries tend to be loyal to the president in the first place, and they also know that success in their jobs is connected to success for the administration. After all, there's plenty of time to cash in later. Donald Trump, on the other hand, constantly acts in ways that make it highly unlikely his cabinet or others in the executive branch feel much loyalty to him at all, since he hasn't shown them or anyone else that he can be trusted to support them. I'm sure they still want him to succeed, but it's unlikely there's a sense of a team working together toward shared goals; it's more likely that those with personal goals try to achieve them, and the rest flounder. That's a recipe for corner-cutting at best and outright corruption at worst.
And then it's also virtually impossible to imagine that Trump, or the White House in general, has put any pressure at all on anyone within the administration to follow normal ethics guidelines. That would take a lot more organization than any of them have demonstrated, even if they were interested in ethics. And John Kelly, the current chief of staff, is by all accounts too busy babysitting the president and putting out fires to do anything more. As far as the president is concerned, the incentives for success with him are pretty clearly tied to learning to flatter him correctly, not to a clean bill of heath from departmental inspectors general.
And for Tom Price, it must be even more obvious what this president cares about. After all, he was caught up in a scandal during his confirmation process, but no one in the administration -- and no Republicans in Congress, either -- cared at all about it. The message was clear: If you get in trouble, we'll stick with you. 
In other words, don't expect this to be the last, or the worst, episode of this kind during the Trump administration. 
1. E.J. Dionne, Norm Ornstein and Tom Mann on Trump, norms of democracy and the Republican Party. 
2. Brandon Kendhammer on colonialism and studying colonialism. 
3. Heather Hurlburt on Trump and climate. 
4. Fred Kaplan on Trump's U.N. speech. 
5. Spencer Ackerman listens to Trump's speech -- and hears an old Vladimir Putin speech. 
6. I lean toward agreeing with Jonathan Chait that the best way to avoid single-payer health care is to keep and strengthen the Affordable Care Act. 
7. And I think Kevin Drum is correct about mainstream liberals and violent (and violence-tolerating) leftists. 
Get Early Returns every morning in your inbox. Click here to subscribe.
To contact the editor responsible for this story:
Brooke Sample at bsample1@bloomberg.net
Before it's here, it's on the Bloomberg Terminal.
LEARN MORE