Early Returns
Trump's Terrible Numbers Are a Little Less Terrible
Jonathan Bernstein's morning links.
by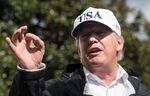 Time to revisit Donald Trump's approval ratings.
After spending August stuck right around 37.0 percent approval, Trump has rallied and, as of Sunday night, sat at 38.8 percent, according to FiveThirtyEight (other polling aggregators have similar results). His net approval -- approval minus disapproval -- is only around -16 now, after dipping below -20 in August. 
That's still awful. He's currently beating Gerald Ford in a same-day comparison -- the same number of days into the presidency -- but is well behind everyone else in the polling era. Bill Clinton is still the runner-up for elected presidents, and Clinton's approval at this point was 10 points better than Trump's now, and his net approval was well over 20 points better; all elected presidents until Trump were in positive territory during September of their first year. The most important thing about Trump's approval ratings continues to be that he's unusually unpopular for a first-year president, and he would need a much bigger surge for that to change. 
The move up a couple of percentage points appears to be real. But I'd recommend being extremely cautious in interpreting the change. I've seen speculation that it's because Trump appears to have handled the recent hurricanes well. That's plausible -- but so is speculation that the hurricanes, regardless of Trump's actions, helped him by getting the news focus off him for a while. Or perhaps the publicity from striking deals with Democrats, no matter how little substance has been in them so far, is helping him. Note that Nate Silver estimates that there's a tug toward 50 percent in the empirical record of presidential approval, so if nothing happens, an unpopular president will tend to get a bit more popular (and a popular one will lose a little approval) -- so it's possible that it's nothing at all. 
There's really no way to assess which if any of these factors might be causing the small increase. It's too small an effect, for now at least, and there are too many stories in the news at the same time. Of course, that won't people from confidently asserting that they know exactly what causes every tiny fluctuation in presidential approval. 
Does it matter? A little bit, around the edges. Republican politicians who are totally fed up with Trump aren't going to suddenly change their public attitudes because he's slightly less unpopular. But those who are right on the line about whether to publicly criticize him for this or that may be slightly encouraged to hold back a while longer out of concern that the approval bump might become a more impressive rally. On the other hand, I doubt there's a single on-the-fence potential candidate for 2018 who will change his or her mind based on 2 percentage points. But it is fair to say that most effects of presidential popularity are based on subjective readings, and it's not crazy to think it might be better to be at 39 percent approval with most people believing the number is rising than at, say, 45 percent and a perception of falling. 
1. Adam Chilton, Helen Milner and Dustin Tingley at the Monkey Cage on why the U.S. is blocking Chinese takeovers of U.S. companies. 
2. David Karpf on Facebook, influencing voters and the Trump/Russia scandal. 
3. James Fallows on Hillary Clinton's book. 
4. Jonathan Cohn on the new Obamacare repeal bill moving toward the Senate floor. 
5. And my Bloomberg View colleague Timothy L. O'Brien on the chaos of Trump's negotiating style. 
Get Early Returns every morning in your inbox. Click here to subscribe.
To contact the editor responsible for this story:
Brooke Sample at bsample1@bloomberg.net
Before it's here, it's on the Bloomberg Terminal.
LEARN MORE