U.S. Economy
Maybe Recruiters Are Keeping People Out of Work
Modern hiring practices could be bypassing the jobless.
by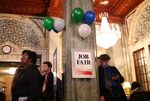 Now should be among the best of times to find a job. So why are so many Americans still not working? The answer might have something to do with the way employers hire.
Demand for workers looks as strong as it has ever been. The U.S. job openings rate 1  stood at 4 percent in July, matching the highest point on record. And those vacancies are staying open for an average of 29 working days, close to the historical peak. Here's how that looks:
Despite the apparent abundance of jobs, plenty of workers remain on the sidelines. Consider the share of people in their prime working years who are actually employed: As of August, the ratio stood at 78.4 percent, 1.7 percentage points -- or about 2.1 million jobs -- short of the level that prevailed before the last recession. Long-term unemployment, too, remains elevated.
What gives? Why aren't these people being drawn into jobs? It could be that the positions on offer don't pay enough, or that the skills of the jobless have eroded to the point where they aren't employable. But Steven Davis, an economist at the Chicago Booth School of Business and a senior fellow at the Hoover Institution, sees another possible explanation: a change in hiring practices.
Once upon a time, employers had a relatively passive approach to hiring. They would put word out, either through newspaper ads or their own networks, and wait for people to respond directly. Nowadays, they're often more proactive. They turn to specialized intermediaries, which scour social-media sites such as LinkedIn for the best matches.
Using data from the career-resource company DHI Group, Davis tracks employers' use of intermediaries such as recruiters and staffing companies. Because DHI focuses on technology professionals, the data might not be representative of the entire job market, but they can give a sense of trends. In 2017, 66 percent of postings came through intermediaries, up from 62 percent in 2012. 2 Those postings attracted 64 percent of all applications, compared with 56 percent in 2012. Here's how that looks:
The newer, more targeted approach would tend to identify more candidates who fit the employers' requirements -- and more prospects who are already employed. Recruiting such workers might take more effort, helping explain why vacancies remain open for longer. The whole process might also bypass a lot of people who are out of work, putting them at a disadvantage.
To be sure, the evidence is spotty. But it's possible that modern hiring practices are creating an added barrier for people looking to get back to work.
To contact the editor responsible for this story:
Stacey Shick at sshick@bloomberg.net
Before it's here, it's on the Bloomberg Terminal.
LEARN MORE