Sports
The Glories of a Non-Revenue-Maximizing Baseball Game
When all of the fans are invested, everyone wins.
by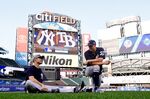 Last Saturday morning I read in the newspaper that because of Hurricane Irma, this week's three-game series between the New York Yankees and the Tampa Bay Rays was being moved from Tropicana Field in St. Petersburg to Citi Field, home of the New York Mets. Tickets were going on sale at 10 a.m., all seats for $25, with no service charge. I'm not a fan of the Yankees or the Rays, but I am a fan of baseball, day games, Citi Field and $25 tickets, so there I was at my computer at 10, buying two seats in the first row behind the visitors' dugout for Wednesday afternoon's game. 
On Wednesday just after 1 p.m., my wife and I settled into our seats. 1  Our first discovery was that first-row seats behind the visitor's dugout actually aren't all that amazing. It was fun to watch the Yankees trot in at inning's end, but hard to follow the action on the field and also, until clouds moved in late in the game, really hot.
That's a minor quibble (although good to know for future reference). My main takeaway was that watching a sporting event attended chiefly by people who rushed to their computers or phones a few days before to buy cheap tickets is pretty magical. Only actual baseball fans would do such a thing, and when every occupied seat at a game is occupied by people interested in and in most cases quite knowledgeable about the on-field happenings, the atmosphere is noticeably different from the norm. The crowd groans and cheers and otherwise reacts to on-field events with an infectious alacrity and intensity. The fan chatter around you in the stands is informative and often funny. It just feels ... better.
This isn't the way baseball games usually feel because teams usually try to:
Lock up as much revenue as possible well ahead of time with season tickets, corporate boxes and the like.
Maximize revenue through differential pricing.
The result is that, at all but the most important games:
Lots of good seats are empty for much or all of the game. 2
The people in the seats closest to the field are often far less interested in what's happening on the field than the folks in the upper deck.
This game had only been added to Citi Field's schedule five days before, so there wasn't any opportunity to lock in revenue well ahead of time, and the Mets opted not to bother with differential pricing. They initially offered only seats in the stadium's lower bowl, opening up other sections after those were sold out. So while the attendance Wednesday was just 13,159 (more people showed up for the Monday and Tuesday night games), the lower stands were packed, except in the outfield.
The modal attendee (the mode in a statistical distribution is the value that occurs most frequently) was, I would venture, a white guy in his 70s -- that last to be expected at a short-notice game on a workday. 3 But there were lots of other sorts of people there, including multiple babies attending their first games. The demographics stood out less than the attitude.
Contributing to the good vibe was the strangeness of the event. It was an unexpected bonus local game for Yankees fans, who made up the overwhelming majority of the crowd, but it was technically a Rays' home game. So we got walk-up music when the Rays came up to bat, sonic incitements to cheer when they had men on base, and occasional scoreboard appearances by the bizarre Rays mascot DJ Kitty. These both lent an exotic flair to the game and, as reminders that the opponents had been displaced by a giant hurricane, a certain civility (from which the home plate umpire, Angel Hernandez, was of course exempted).
Now, I guess we shouldn't expect pro sports franchises to arrange their ticket sales in a way that so obviously doesn't maximize revenue. And as a frequent visitor of baseball stadiums, I can attest that they're pretty fun for regular fans even on normal days (in contrast to, say, the big tennis stadium across the subway tracks from Citi Field, where regular fans are afforded only nosebleeds). But it still seems like teams and leagues ought to take note. It is possible to create a much more compelling game atmosphere than what is usually on offer -- which may have some long-term value even if it doesn't show up in this year's P&L.
One would think that the internet-enabled resale of tickets would have lessened this problem, and I guess it has. But it's been counteracted in part by the rise of in-stadium restaurants and bars for people with the most expensive tickets, which can lead them to leave their seats vacant for much of the game. 
To contact the editor responsible for this story:
Brooke Sample at bsample1@bloomberg.net
Before it's here, it's on the Bloomberg Terminal.
LEARN MORE