view
Bank of England Can't Afford to Mix Messages Anymore
Sure, Brexit's been crazy. Central bankers can reduce the anxiety instead of adding to it.
by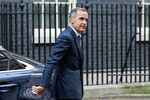 The Bank of England is right to cautiously signal that an interest-rate increase is coming. Far more important will be following through and actually doing it. 
I won't belabor the "unreliable boyfriend" tag that a lawmaker pinned on Governor Mark Carney for inconsistent messages. The bank has been dealing with, as it says, exceptional circumstances. The Brexit vote last year threw politics and policy of pretty much every aspect of public life into chaos.
So too with the economy. Inflation is poised to exceed 3 percent, a full percentage point above the central bank's target. Yet growth is anemic, and there's a broad consensus that the climb in inflation is a reflection of the pound's slide -- itself a result of Brexit -- rather than a tight labor market.
Under normal circumstances, rates would probably already be higher by now. Just imagine it: Rejoice! A central bank with inflation above target. Sadly, normal went out the window in June last year along with the commitment to the EU.
But tough choices don't abrogate the need for decisions. And the central bank has come down on the side of some kind of modest withdrawal of stimulus. Not yet, mind you. Over "coming months." Let's hope they mean coming "month." Singular.
For the Bank of England to retain its role as the adult in the room, higher rates need to come sooner rather than later. Another appearance of flip-flop, the U.K.'s tough situation notwithstanding, would be damaging. We've been here before only recently, when Carney spoke at a conference in Portugal in late June and appeared to be priming the public for an imminent move. Then there was a backing away.
I wrote last month that the bank's decision to pass in August, given the poor growth data, was the right call. I also said that things would get really interesting if inflation didn't recede and growth didn't pick up. Where are we now? Inflation not only hasn't receded; it increased to 2.9 percent, and the bank said in its statement this week that it's probably going to exceed 3 percent. 
The Bank of England has concluded it's now interesting enough. So how to raise rates without snuffing out growth while the political class thrashes around? Carney and his team could raise the benchmark rate by a quarter point to 0.5 percent and signal that would be it for now. It would convey that the immediate post-referendum sense of emergency is over without committing to a series of increases that the economy might not be able to handle.
And we are talking about a withdrawal of stimulus, not a desire to restrict activity. By saying inflation is going to overshoot target for the next three years, the bank is implying it won't raise rates solely in pursuit of returning to target.
So call this a down payment until the fog clears. Can circumstances change? Yes. The bank made the right decision in August. Now, having overtly telegraphed a step, the best result would be to get it over with. 
That means the November meeting of the monetary policy committee. Officials will be armed with fresh forecasts then and, unlike this week, a press conference to fully convey what an increase means and doesn't mean. Perfect chance to be reliable.
To contact the editor responsible for this story:
Philip Gray at philipgray@bloomberg.net
Before it's here, it's on the Bloomberg Terminal.
LEARN MORE