Canada
Why So Defensive, Bank of Canada?
Officials can avoid the PR gaffe that New Zealand's central bank stumbled into.
by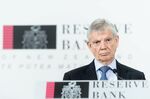 Here's hoping Canada doesn't spoil its great economic story by going down the New Zealand route.
The Canadian central bank took the unusual step this week of publicly rebutting criticism by the chief economist of one of the country's biggest banks. Doug Porter of Bank of Montreal wrote in his weekly note on Sept. 8 that the bank had failed to sufficiently communicate its intention to raise its benchmark interest rate -- a move that many economists rather shockingly didn't see coming. 
The critique clearly struck a nerve with the Bank of Canada, and spokesman Jeremy Harrison came out swinging. Harrison said the bank indicated in July that policy would be forward-looking and data-dependent. And while most economists didn't forecast a step up last week, Harrison said that financial markets saw it as a more or less 50-50 proposition.  
Sure. All true. But why be so defensive? This response to an outsider's critique makes the Bank of Canada look vulnerable and unsure of itself. Worse, it risks creating the perception that the bank will respond to economist notes that it doesn't like or that it feels are wide of the mark. Investors could end up speculating that the central bank's silence about some economist's note is equal to an endorsement. This kind of speculation is exactly what banks want to avoid by trying to be tempered in their public statements. And the bank surely doesn't want broadsides against analysts to be another form of forward guidance. That would be a mistake.
Consider the unedifying spectacle of Reserve Bank of New Zealand Governor Graeme Wheeler writing to the CEO of a bank to complain about an economist whose work he took umbrage to.
Running a preeminent public institution brings with it a high degree of public scrutiny. That's part of the deal. By all means, central bank leaders should engage with investors, analysts and stakeholders. But the New Zealand fracas shows how petty things can look if not handled deftly.
It's beside the point whether Porter was right in his critique of the Bank of Canada. (I did write last week that an increase was in the cards after the stellar 4.5 percent growth notched in the second quarter. And the central bank should get credit for following through on a flagged rate hike.) The point is that it's dangerous for powerful institutions to appear defensive.
More communication isn't necessarily more clarity. Canada has a good news story to tell. At the top of the Group of Seven growth league, it looks like a big beneficiary of the global economic upswing.
Don't spoil it by spending too much time in the trenches.
To contact the editor responsible for this story:
Philip Gray at philipgray@bloomberg.net
Before it's here, it's on the Bloomberg Terminal.
LEARN MORE