Prophets
Bond Market's Melt-Up Has All the Hallmarks of Fear
Offers to sell are sparse, liquidity has deteriorated, and the tone can best be described as near-panicked.
by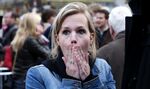 Earlier this week I wrote in a column that the relentless rally in U.S. Treasuries had been very orderly and logical, as Hurricane Harvey and North Korean provocations combined with disarray in Washington to force any remaining bond bears to concede defeat. Since then, something has changed: A whiff of panic has crept into trading activity in what can only be described as a "melt-up" in bond prices.
While the mix of news in terms of politics and economics hasn't changed much, unexpectedly dovish comments from European Central Bank President Mario Draghi early Thursday contributed to a visible change in trading patterns. Offers to sell bonds have grown sparse, liquidity has deteriorated, and the tone can best be described as near-panicked and "grabby."

It's human nature to look for root causes when markets go vertical, but the bond pundits are having extreme difficulty explaining this latest move higher. Besides some weak inflation reports, the economic data have been quite favorable for bond bears. The labor market remains strong, and riskier assets haven't stumbled much despite the diminished odds of major tax reform. 
One has to look at the political and security realms to have a better sense of reasons for the remarkable collapse in market rates. While this week provided a mixed bag of developments in both arenas, the fog of uncertainty regarding the Trump administration's relationship with the Republican congressional majority only deepened when President Trump crossed the aisle and sided with Democrats on adding a three-month extension to the U.S. debt limit and government spending to a hurricane relief bill. That delay allowed for more normal functioning of the Treasury bill market, but portended yet another brawl in Congress in December just a week before a crucial Federal Reserve monetary policy meeting.
While it is much too early to totally dismiss the Fed's plan to raise interest rates for a third time this year, the markets are doing just that. The odds of a December hike have collapsed to about 20 percent from more than 40 percent at the start of the summer. And while the long-term economic effects of hurricanes battering the U.S. are a matter of debate, traders see the fourth-quarter economic picture as a complete mess due to Harvey and Irma -- not an environment in which another Fed rate hike looks necessary.

Dovish comments from Fed Governor Lael Brainard added to the bullish sentiment, and the surprise resignation of Vice Chair Stanley Fischer threw a wrench into everyone's handicapping plans for the composition of the central bank policy board next year when Chair Janet Yellen's term ends in February. A fourth vacancy on the Federal Open Market Committee leaves too much uncertainty for many traders, and when they don't feel they have an edge, the default move is to grab haven assets and wait for more information.
At the same time the shorts are scrambling to cover their positions, there are reports of heavy foreign central bank purchases of Treasuries following Draghi's comments and waves of technically driven futures buying as "black box" models become forced buyers at the new highs. All of this can create tremendous momentum in a market that won't get additional supply until next week, when the Treasury Department auctions $56 billion in three-, 10- and 30-year bonds in the monthly refunding. For now, the bulls don't look to be deterred by the signs of resilience in the economic data, and until is results in faster inflation, it won't matter.
To contact the editor responsible for this story:
Robert Burgess at bburgess@bloomberg.net
Before it's here, it's on the Bloomberg Terminal.
LEARN MORE