Europe
Merkel's CDU Isn't as Centrist As it Looks
Like Helmut Kohl, the current chancellor is a unifying force. But for how long?
by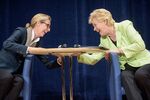 A capacity crowd of 2,000 in Pforzheim, a small city in southwestern Germany, greeted Erika Steinbach, a conservative doyenne who had served 26 years as a parliament member for the Christian Democratic Union. Only Steinbach wasn't campaigning for CDU leader Angela Merkel on Wednesday: She was the guest of honor at a campaign event put on by Alternative for Germany (AfD), the far-right party that will probably get into parliament for the first time after the Sept. 24 election.
One often reads that the AfD is the first German far-right political force with strong chances at federal parliamentary representation since World War II. But that's not strictly accurate: Such forces have always been present in the Bundestag under the CDU's respectable cover. Merkel's unacknowledged attempt to exorcise them may even present an existential threat to the CDU once her political career is over. What's happening in Pforzheim shows how the threat may play out.
Pforzheim, not far from the French border, has been Germany's jewelry and watchmaking capital for centuries. There is, however, an American feel of transience to its modern-day look: In 1945, British air raids destroyed 80 percent of the city's buildings and killed a third of its population. Few people living in Pforzheim now are from here: Foreign citizens make up 25 percent of its population of 120,000, and another 52 percent have a migration background, meaning they came from overseas or were born to immigrant parents.
Anti-immigrant parties are often strongest in areas where there are few immigrants. The AfD, for example, punches above its weight in the eastern German states where the share of non-Germans in the population is below 5 percent. But in Pforzheim, with its multicultural and multicolored population, the AfD is the strongest party. During the 2016 state parliament election, its candidate won the city with almost a quarter of the vote. That's why the local congress center was full when Steinbach and the AfD's lead candidates in the coming election, Alice Weidel and Alexander Gauland, came to campaign on Wednesday.
"Perhaps the way Pforzheim votes is an indication that integration hasn't worked as well as the government would have us believe," says Waldemar Birkle, the AfD candidate for the Pforzheim seat in the federal parliament.
In official statistics, Birkle figures as an immigrant himself. He moved to Pforzheim from still-Soviet Kazakhstan in 1990, and he speaks German with a Russian accent – which doesn't prevent the mostly accent-free AfD voters from cheering him loudly. Birkle is an ethnic German, one of the post-Soviet "late resettlers" who moved to Germany during the chancellorship of Helmut Kohl, leader of the CDU for 25 years until 1998. He's the kind of immigrant the AfD embraces – a German nationalist who embodies the right kind of "cultural enrichment": The Russian culture, unlike the Turkish or Arab ones, is seen as essentially European.
I heard a lot about Kohl in Pforzheim on Wednesday – the way one would often hear about Ronald Reagan at a U.S. conservative gathering. Weidel mentioned his promise to German voters that Germany wouldn't take on any of the other euro zone countries' debt. Gauland spoke about Kohl's promise to Russia that the North Atlantic Treaty Organization wouldn't expand toward its borders. Birkle spoke to me of the "late settlers'" gratitude toward Kohl for letting them move when their hopes of carving out a German autonomy in the crumbling Soviet Union faded.
Many of those attending the AfD event were CDU supporters under Kohl. A strong German nationalist himself, he led a party that harbored even stronger ones – such as Steinbach (also a Kohl fan)– Germans kicked out by Eastern European countries after World War II. Gauland, whom Merkel allies now call a right-wing extremist, was part of the CDU political machine during Kohl's leadership. Bjoern Hoecke, a Holocaust denier and one of the most influential figures in the AfD, was a member of the CDU's youth organization.
Because of Germany's history, serious far-right politicians didn't dare strike out on their own. The respectable CDU provided them cover and fostered their careers. They didn't take on too many important roles, but they were, in many ways, the party's nucleus: Its leaders always had to look over their shoulder lest they offend the blood and soil ultraconservatives.
Things have gradually changed, though, and Kohl's death this year drove home the nature of the change. "I went to lay a bunch of flowers next to his coffin and I said, 'Now you're gone and we're free,'" Albert Breininger, an AfD candidate from the neighboring state of Rheinland-Palatinate, told me. The freedom he meant was from any debt of allegiance to the CDU, which Breininger says has moved quickly to the left under Merkel.
"She thinks the people who supported the party came along, but they really haven't – they're here with us," he told me. That was Steinbach's message, too. She says Merkel has hijacked CDU.
The membership of the main German parties, the CDU and the Social Democratic Party (SPD), has been shrinking for decades. On paper, the CDU's member outflow has receded somewhat under Merkel, but the AfD added almost 10,000 members in 2016 just as the CDU lost 12,500. That's indicative of the supporter dynamics, too: The ultraconservatives are gradually finding a different home, one where they can say freely what they have always though about Muslims, profligate and debt-ridden southern Europeans, environmentalism and U.S. hegemony (Russia, in these circles, is often seen as a preferable partner for Germany because it's not perceived as arrogant or domineering).
In Germany, shedding political correctness is more difficult for a nationalist than elsewhere because "Nazi" is less of an abstract notion. So far, the CDU still has most of its conservative wing, which partly explains its dominance in the current election. But to the out-of-the-closet nationalists of the AfD, the pro-Merkel conservatives are hypocrites.
In her speech, Steinbach quoted the 2002 CDU election program, which said Germany couldn't be a "classic country of immigration like Australia or Canada" for "historical, geographic and societal reasons." More immigration, the program said, would threaten the nation's inner peace. Those conservative voters who have shifted to the AfD – certainly those I met in Pforzheim – agree wholeheartedly with that. It's also likely that many of the current CDU voters still do: It's just that radical conservatism still feels like an oxymoron to many Germans.
It's easy for most CDU voters to stick with the party now that Merkel is still at the helm. Merkel is forgiven her unconventional moves such as the 2015 border opening or her abrupt decision to phase out nuclear power after the Fukushima disaster because she's firmly associated with good economic times – and because she's been around forever.
Post-Merkel, however, it may have difficulty defining itself as a right-wing party, even a center-right one – just as the SPD has allowed its left-wing credibility to erode while governing with Merkel. With any new leader, the venerable party will have difficulty with the ideological content of its offering to voters.
That's the AfD's long-term bet. Cautious and experienced Steinbach, however, isn't quite backing it: While she has quit the CDU, she hasn't formally joined the AfD. Taking the "right" out of "center-right" is a risky project in Germany, that may turn out to be overly ambitious – but there is certainly a base for it that hasn't emerged overnight and that extends beyond the 10 percent the AfD currently commands in the polls – and perhaps even beyond the 25 percent the party gets in strongholds like Pforzheim. How far beyond, the next two electoral cycles will show.
To contact the editor responsible for this story:
Therese Raphael at traphael4@bloomberg.net
Before it's here, it's on the Bloomberg Terminal.
LEARN MORE