European Economy
Europe's Central Bank Is Wise to Be Patient With Low Inflation
The expectation is still to recover to almost 2 percent inflation, but there's no hurry.
by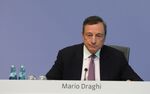 Mario Draghi is not among the doubters.
The European Central Bank president dismissed the notion that Europe is in an era of low inflation. "There is no question," he said when asked whether price increases in the euro zone will return to the bank's target of close to but just below 2 percent. 
At some time. We just need to be patient. It was a good question, from Italy's Repubblica newspaper, because the issue is at the heart of what central banks in major economies are wrestling with: increasingly solid economic growth isn't leading to a meaningful pickup in wages and inflation. 
And in explaining the bank's decision to maintain its stimulus, Draghi did stress patience today, along with the importance of the euro's rally in dampening inflation. Forecasts presented today at the European Central Bank's Governing Council Meeting projected growth in gross domestic product this year of 2.2 percent, the fastest since 2007. At the same time, inflation isn't going anywhere fast -- seen at 1.5 percent this year, easing to 1.2 percent next year before inching back up to 1.5 percent in 2019.
But it will get back to target, Draghi said; it's just going to take some time. He didn't show any sign of feeling rushed toward a policy shift, even though the bank's current program of stimulus through bond-buying expires at the end of this year. He fielded several questions on details of what comes after that quantitative easing, and when it will be revealed. Wait until next month, he assured. All will likely be revealed. If it takes longer, so be it. Patience. 
Officials will probably be ready by the next policy meeting on Oct. 26. All the references to the euro, and the emphasis that faster growth hadn't yet translated to markedly faster inflation, suggests there will be no sudden stop to the ECB's bond purchases 1  of 60 billion euros a month. An abrupt end was always unlikely, but Draghi made it seem like a transition to, say, 40 billion a month might be more favored, rather than 30 billion or 20 billion.
I've written that the ECB shouldn't be too stressed about the euro because it's not all under the control of Europe. And, at least in part, the currency's climb reflects better growth in the 19 countries that use it. Draghi didn't seem stressed, but foreign exchange did get a lot of attention. He even mentioned it in his opening statement, rather than waiting for it in question-and-answer time -- though the questions came anyway.
For the time being, there's no doubt in officials' minds that the appreciation -- it's up almost 15 percent against the dollar this year -- is slowing inflation's return to target. And that euro strength needs to be taken into account in deciding what comes next.
The ECB still has a chance to embrace Europe's economic rebound by pulling back on stimulus meaningfully. To be fair, Draghi did acknowledge the economic solid ground several times today. It gets down to how comfortable policy makers are with the implications of a pullback.
And why is he so confident that this isn't a new era of low inflation? Several things are at work that will take time to diminish: Wage negotiations look backward rather forward, productivity is low, unions value employment stability rather than pay rises, and today's corporations make decisions globally. Ultimately, the breadth and strength of the economy will come into play. But it won't happen overnight.
In the meantime, we wait for October.
To contact the editor responsible for this story:
Philip Gray at philipgray@bloomberg.net
Before it's here, it's on the Bloomberg Terminal.
LEARN MORE