view
The Greater Billionaire Theory of Sports Team Prices
Buying the Houston Rockets is supposed to be fun, right?
by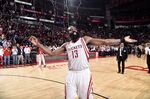 Houston restaurant and casino entrepreneur (and reality-television star) Tilman Fertitta is buying the National Basketball Association's Houston Rockets for a reported $2.2 billion. The Rockets' earnings before interest, taxes, depreciation and amortization during the 2015-2016 season were estimated earlier this year by Forbes at $62.7 million.

That makes for a price-to-Ebitda ratio of 35. This is by the standards of, say, stocks really high: The price-to-Ebitda ratio of the Standard & Poor's 500 Index is currently 9.8.
Amazon.com Inc. also happens to have a price-to-Ebitda ratio of about 35. But Amazon is unique, a disruptive corporate force that some investors think will keep snarfing up larger and larger shares of the world's economic activity. They might be wrong, but at least they have an argument.

I don't think one can make similar arguments about the prospects of the Houston Rockets. They're not going to drive the Dallas Mavericks or the Houston Astros out of business. The team's earnings may well keep growing, but it'll happen incrementally. So why would a smart businessperson pay such a staggeringly high price for them?

After paying $2 billion three years ago for the Los Angeles Clippers, former Microsoft Corp. Chief Executive Officer Steve Ballmer offered this justification to ESPN:
It's not a cheap price, but when you're used to looking at tech companies with huge risk, no earnings and huge multiples, this doesn't look like the craziest thing I've ever acquired. It's my own personal money, and you're just as careful with your own money as you are with your shareholders money. And compared to some of the public traded companies, there are great companies out there like Amazon with absolutely no earnings and a huge market caps and lots of risk. There's much less risk. There's real earnings in this business. There's real upside opportunity. So compared to the things I looked at in tech, this was a reasonable purchase and it's one I'm really excited about.
Still, the Clippers actually lost money during the 2015-2016 season, according to Forbes. A new local television deal has probably put the team back in the black by now, but there's no guarantee that those local TV deals will just keep getting more and more lucrative. The regional sports networks that have become a key underpinning of pro-sports finances in the U.S. aren't immune from the cord-cutting trend that has become increasingly painful for ESPN. At the prices currently being paid for them, it's hard to believe that pro sports franchises are low-risk investments.

They are, however, fun investments. "I'm really excited about the product," Ballmer went on in 2014. "I love it. I've been to over a hundred basketball games in the last year and that's just high school games." Or, as Fertitta told TMZ today: "It's been my love going to Rockets games all my life."
And that really is the key. As long as there are are people out there who think it's fun to own a pro sports team, and can afford to pay $2 billion or more for it, buying a pro sports team for $2 billion will be an OK investment. If you can take a laggard franchise and elevate it to the top of its sport, as Joe Lacob and Peter Guber did after paying $450 million for the Golden State Warriors in 2010, it might even be a great investment. But in general the supply of potential billionaire buyers appears to have become more important to the valuation of sports teams than the prospect of future earnings. It's a variant on the greater fool theory -- with the twist that the fools, in this case, get courtside seats at NBA games. 
To contact the editor responsible for this story:
Brooke Sample at bsample1@bloomberg.net
Before it's here, it's on the Bloomberg Terminal.
LEARN MORE