Entertainment
A Perfect Playlist Takes a Little Work and a Little Love
Some music advice for weekend warriors from a veteran of the spinning circuit.
by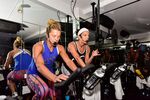 I confess: My primary form of cardio exercise is what's known as "spinning" -- pedaling on a fancy stationary bike, in a room with about 50 other people, music blaring, while an instructor puts you through your paces. There are those -- I'm talking to you, New York Times columnist Ginia Bellafante -- who consider spin chains like Soul Cycle an expensive exercise fad geared to the wealthy. Me, I like spinning because (a) I like riding a bike, even if it's stationary; (b) I love music; and (c) I loathe running or using an elliptical machine. Like millions of others, I used to pay for a gym membership I rarely used. Spin classes I actually attend.
One thing I realized early on was that the music playlist -- usually 10 songs that span the 45-minute workout -- was the key for me. A banal playlist made for a banal class. The exercise felt too much like work, the way the gym used to. But a good playlist energized me. It made all the difference.
But how do you go about creating a good cardio playlist? At Flywheel, the spin chain I frequent, the queen of the playlist is its founder, Ruth Zukerman, who has been in the spin business in one way or another, for 17 years. 1  Zukerman told me that the man who created spinning in the late 1980s, a South African cyclist known as Johnny G, 2  never used music with lyrics. "It was mood music with a beat," she said, clicking on Chicane's "Offshore," to show me what she meant:
Over time, as spinning became more popular, and the instructors became more adventurous, many began including songs that were familiar to their clientele. Zukerman tried that herself, and discovered that there was a direct correlation between the music she played and the popularity of her classes. As good as she was leading an exercise class, her ability to put together a musical playlist that was integral to the workout -- that was her secret sauce.
I wanted to understand the thought process that went into putting together a good cardio playlist, so I asked Zukerman to show me how she did it. She took me through a playlist she had recently done for a Flywheel class. I think her principles apply not just to spinning, but to any kind of cardio exercise:
"Josie," by Steely Dan. "Who doesn't love Steely Dan? It's a great way to kick off the exercise. Whenever there is a certain familiarity to a song, it taps into the listener's memory. That is one way to get a rider engaged. It has a steady beat that doesn't push you. It just gets you committed to the ride."
"Alive" Pearl Jam (remix). "I use a lot of remixes. The beauty of a remix is that you can take an old song and make it fresh again. 'Alive' is a little slower than the first song, so we're adding more resistance to the bike, changing the pace."
"Love on the Brain," Rihanna (remix). "We're out of the warmup phase now, so I wanted something upbeat, something pop, and current. This has a great underlying beat. It gets people propelled again."
"Where the Streets Have No Name," U2 (remix). "This starts out with a little of that Johnny G feel -- a propulsive beat, but no lyrics, and you're waiting to see what's coming. And then comes U2. This song goes almost six minutes -- you know the workout is serious now."
"You Get What You Pump," a mashup of "Pump It Up," by Joe Budden, and the New Radicals' "You Get What You Give." "I got this mashup from a DJ who sends me music sometimes. It starts with 'Pump It Up,' which slows down the beat from the previous song, and tells the rider we're going to be turning up the resistance. And then, just when you don't expect it, in comes this explosion of melody from the New Radicals that is familiar and engaging." [Note: The mashup hasn't made it to YouTube, so we're posting both songs instead.]
"I Need Love," Hot Toddy. "This song is very percussive, almost trance-like. It is perfect for the kind of flat riding that comes after a long stretch of hard pushing. And when he sings, 'I need love,' who doesn't need love?"
"Can You Feel It?" R. Kelly. "This song is very pop-ish, a big contrast to 'I Need Love.' Another huge sell in an athletic workout song is when it builds -- and this song builds. As it does, you can sense the riders pushing hard, as though they're building too, in the workout."
"Fly Me to the Moon," Frank Sinatra (remix). "I always like to throw in something completely unexpected. You don't expect to hear Sinatra remixed, but it really works here. And listen to that trombone near the end -- it's the perfect happy sound for this latter part of the workout."
"It's Too Late," Carole King (remix). "I love this song, but it just wouldn't make sense as a workout song without this amazing remix. It's done by BadboE, who has transformed it into a funk tune, complete with an appearance by Lauryn Hill. It's completely irresistible, and it keeps you moving."
"Flesh and Bone," The Killers. "This is a classic 'end-of-workout' song. It starts a little mysteriously, kicks in with a big rock melody, and has a series of high-energy choruses -- just as the riders are digging into their reserves, knowing the workout is almost over. And that fade out at the end is cool."
Before starting Flywheel, Zukerman was also a co-founder of Soul Cycle, though she has long since been excised out of the Soul Cycle narrative.
To contact the editor responsible for this story:
Stacey Shick at sshick@bloomberg.net
Before it's here, it's on the Bloomberg Terminal.
LEARN MORE