Cars
The Auto Jobs Boomlet
The industry is adding workers, even though car sales are falling. Here's what's going on.
by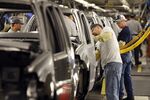 Amid a pretty-good-but-not-great jobs August jobs report, one important industry did have a great month for hiring -- adding a seasonally adjusted 13,700 jobs, after a July gain that was revised upward to 5,300. 1 It is, oddly enough, an industry about which most of the recent headlines have been negative.
What's going on here is that, even as motor vehicle sales have fallen for the past few months, consumer demand has been shifting from cars to sport utility vehicles and light trucks. Compact SUVs have shoved aside sedans, Bloomberg's Jamie Butters and John Lippert reported Thursday, and the Nissan Rogue -- made in Smyrna, Tennessee, as well as at plants in Japan and South Korea -- is the bestselling non-pickup-truck in the U.S. (the bestselling vehicle of any kind is the Ford F-Series). To adjust to this demand shift amid a model-year changeover, Bloomberg Intelligence auto industry analyst Kevin Tynan wrote in an email, "there are many factories hiring in order to increase the output of pickups and crossovers."
Then again, decreasing the output of sedans will have employment implications, too. The Smyrna plant where the Rogue is made produces both cars and trucks, so workers can be shifted from one line to another. Toyota is revamping its giant plant in Georgetown, Kentucky, previously a Camry-and-Avalon-making machine, into a more flexible operation that can produce 11 different models. Detroit automakers, on the other hand, have older, cars-only plants that have been shedding jobs lately and may face more job losses in the coming months.
Overall, auto industry employment does seem to have reached something of plateau -- and it's more than 100,000 jobs lower than the plateau of 11 or 12 years ago, when auto sales were at similar levels. 2
Then again, employment has actually held up a lot better in automaking than in most other U.S. manufacturing industries. I wrote a few months ago that the auto-sales downturn was likely to become a drag on manufacturing employment. It sure hasn't happened yet.
From 1,600 in the previous jobs report.

Is this because more auto jobs have shifted outside the U.S.? It's hard to say -- the market share of imported autos has actually declined since 2007, but the rise of international supply chains, especially the ones that straddle the Mexico-U.S. border, render this statistic less informative than it once was.
To contact the editor responsible for this story:
Tracy Walsh at twalsh67@bloomberg.net
Before it's here, it's on the Bloomberg Terminal.
LEARN MORE