Economics
Tiny Good News on Inflation, for Europe and the Fed
Too-low inflation isn't the worst thing. Remember when deflation was a risk?
by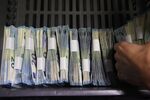 The good news for the European Central Bank and the Federal Reserve is that inflation isn't getting any worse.
And by "worse," I mean declining some more. Key measures of consumer price gains in both the euro region and U.S. held steady, according to figures released this week.
Too-low inflation, given robust employment in many developed countries, is the vexing policy issue of the era and one of the biggest weaknesses of the eight-year global expansion. Remember when central banks would worry about how to get inflation down? Now they rightly worry about keeping inflation above a minimum pace.
The relief, if that's the word, may be more felt at the Fed. After breaching the Fed's 2 percent target at the start of the year, the Commerce Department's personal consumption expenditures index has retreated steadily. Until July, that is. Prices rose 1.4 percent from a year ago, the same amount as June. Below target, but not falling. 
Not that Champagne corks are being popped. Far from it.
Traditional models suggest inflation should be at, or even over, 2 percent, given how low unemployment is, at 4.3 percent. If low unemployment were a sign of a strong labor market, then one would expect that strong labor market to generate substantial wage gains and push prices higher. That isn't happening -- which prompts soul-searching at the Fed over how high to raise interest rates and how quickly to get there. 
The next Federal Open Market Committee meeting will probably be focused on balance-sheet reduction. A rate increase probably won't be on the table until December.
So the Fed has time to see how this plays out, and we can hope inflation will oblige. Over in Frankfurt, the ECB has some more immediate decisions to make. Officials must decide in coming months whether, and how, to scale back their stimulus. President Mario Draghi's task is to try to wrestle some consensus between those who favor a quick end to quantitative easing and those who worry that inflation is too low to risk it.
Good news for both sides of the European argument. Euro-zone consumer prices picked up 1.5 percent in August after 1.3 percent in July. Not awesome, but directionally OK. However, the core rate that excludes food and energy prices was unchanged at 1.2 percent. The ECB's target of close to but below 2 percent looks a ways off at this point.
On balance, it's an argument for Frankfurt to not move too quickly. And it doesn't have to. The fight with deflation, an existential risk to the euro zone a few years back, does appear to be over for now. So as I wrote this week, the ECB shouldn't miss this chance to do something.
To contact the editor responsible for this story:
Philip Gray at philipgray@bloomberg.net
Before it's here, it's on the Bloomberg Terminal.
LEARN MORE