How Not to Tweet During a Natural Disaster
Note to companies: Now isn't the time to hawk your hash browns.
by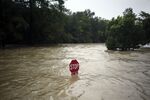 Last weekend, Hurricane Harvey devastated parts of Texas with historic rain that drove tens of thousands of people to shelters. As this unfolded, AT&T and Verizon -- two of the state's biggest companies -- both tweeted that they were offering free data to affected customers, helping them communicate with rescuers and loved ones. It was a smart and compassionate move. But not every company took such a thoughtful approach on Twitter.
Chick-fil-A -- the most popular fast-food chain in Texas – touted its hash brown scrambles on Saturday, while Burger King tweeted on Sunday that "The secret to happiness is Chicken Fries." Target -- the state's most popular shopping chain -- tweeted on Saturday, "We're pawsitively pumped for #NationalDogDay! Spoil your fur baby with our latest & greatest pet products." (To its credit, the next day the company tweeted a message of support, and the day after that it announced donations to relief organizations.)
Those tone-deaf tweets were a big mistake.
During a major disaster like Harvey --  from which the federal government says it will take years to recover -- the most appropriate things for companies to do are to express sympathy and, ideally, offer aid to the victims. That's because Americans believe businesses should practice corporate social responsibility. A 2017 study by Cone Communications found that 70 percent of Americans expect companies to take action on social challenges, even when they're not related to their core business functions. Eighty-seven percent say that a company's values are a factor in their purchasing decisions.
So tweeting trivialities or pushing products during a national catastrophe will damage a corporation's reputation. It makes the company appear callous and mercenary. And it's certainly ill-advised to try to benefit from a disaster. During Hurricane Sandy in 2012, for example, American Apparel was widely denounced on Twitter for its ad offering a discount to customers who were "bored by the storm." (However, tweets promising that a portion of sales during a disaster will be donated to relief efforts can both position businesses as good corporate citizens and boost sales.)
While forecasters knew Harvey was coming, it's possible that companies such as Chick-fil-A scheduled their fluffy tweets in advance using platforms such as HootSuite, before they fully understood the scale of the hurricane's devastation. Staffers could have forgotten about the scheduled tweets, or just not stopped later to consider that it might seem insensitive to talk about hash brown scrambles while so many of their customers were underwater.
This is why I advise my students and clients never to pre-schedule social media posts. A message only makes sense in the context of the climate in which it's delivered. If members of their community or industry are in the throes of a major catastrophe, that's usually the only topic appropriate for a company to talk about on social media.
Another dreadful public-relations strategy is to release negative news during a disaster, in an effort to generate less negative media coverage. This tactic appears most popular among politicians. For example, the White House decision to make three controversial announcements just as Harvey was hurling toward Texas was widely seen as an effort to bury the news. Similarly, the day of the terror attacks of Sept. 11, 2001, a U.K. government official named Jo Moore wrote a memo to her colleagues saying that it was "a very good day to get out anything we want to bury."
Corporations have often tried to minimize attention for announcements likely to harm their stock prices by releasing them on Friday afternoons and other times when they hope people will be distracted. A 2014 study found that earnings reports released during busy days, on Fridays, and after hours were lower than those issued at other times (compared with consensus forecasts). 
But these strategies tend to backfire. Just as the efforts by Trump and Moore received widespread negative coverage, a 2004 study found more volatility in company stock prices when they delivered bad news on Fridays.
Waiting until people appear distracted to drop damaging news doesn't work. It's usually just seen as disingenuous. Instead, corporate communicators should focus on not letting themselves become distracted when it's appropriate to respond to catastrophes in their communities.
Before it's here, it's on the Bloomberg Terminal.
LEARN MORE