Editorial Board
So Much for Winning Latin American Hearts
A U.S. "military option" in Venezuela is the last thing it needs -- or the region wants.
by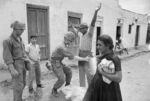 President Donald Trump's threat to exercise a U.S. "military option" in Venezuela was irresponsible not because it was unrealistic, although it was, or because it reinforced that nation's tottering autocracy, although it did. The lasting damage of Trump's words may be to the U.S. relationship with Latin America.
For the first time in more than a decade, some of the region's biggest players are coalescing around policies that ought to be congenial to the U.S. Venezuela's travails have been a useful catalyst, eliciting a near consensus against its repressive chaos. Once-reluctant critics such as Uruguay -- not to mention Ecuador, a Bolivarian stalwart -- have weighed in against Venezuelan President Nicolas Maduro's methods.
Trump's ill-advised statement that "a military operation, a military option, is certainly something we could pursue" has weakened this momentum. During Vice President Michael Pence's trip last week to four Latin American countries, his hosts publicly rejected any U.S. military intervention (as did, effectively, the Pentagon, which pronounced itself mystified).
It's worth pointing out that Trump's threat was preceded by his bullying of Mexico over Nafta, rejection of the Trans-Pacific Partnership involving Chile, Mexico and Peru, harsh remarks about Hispanic immigrants, and a sharp U-turn on rapprochement with Cuba. And it was followed by his tepid response to racist violence in Charlottesville, which struck a dissonant chord in countries like Brazil, with its own bitter memories of racism and slavery.
The U.S. can ill afford to alienate Latin America. U.S. trade with the region, which was growing fast before the global financial crisis, is just now beginning to bounce back. Reforms by new governments in Argentina, Brazil and Peru offer the potential for greater investment. Latin American nations are essential not just to fighting transnational crime, but -- as Pence acknowledged -- to countering threats such as North Korea. And the U.S. should not want to see its regional influence displaced by China, whose economic sway there is growing. 
If Trump were interested in improving relations with Latin America -- with the world, for that matter -- he might consider giving up his smartphone for a teleprompter. Instead of poorly typed tweets or off-the-cuff remarks, he should then offer Venezuela humanitarian assistance for its suffering citizens and, once democracy is restored, multilateral aid to get its economy back on track.
Let Latin American nations take the lead in pressuring Maduro -- a diplomatic strategy Trump could facilitate by nominating qualified ambassadors to Argentina, Brazil, Chile and other countries in the region with empty U.S. embassies. Sanctions on Venezuela's oil exports, which could have a devastating impact on ordinary Venezuelans, should be a late resort. And save the threats to use the world's most powerful military for true emergencies.
--Editors: James Gibney, Michael Newman.
To contact the senior editor responsible for Bloomberg View's editorials: David Shipley at davidshipley@bloomberg.net .
Before it's here, it's on the Bloomberg Terminal.
LEARN MORE