Latin America
Netflix Woos Latin American Viewers by Going Local
Can Reed Hastings's localized offerings conquer the land of the telenovela?
by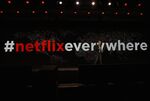 On a recent family holiday, I was killing time in a small-town trinket shop in the scrublands of the Brazilian midwest when a hand-painted sign caught my eye: "Welcome to our home, anytime but during the novela," it read. The droll warning was once gospel in Brazil, where interrupting the prime-time network telenovela was a sacrilege.
My daughter, who is 12, and to whom network television has the allure of homework, was underwhelmed. To her, the gift shop sign was a screenshot from another era. In times of handheld entertainment and binge-watching dramas streamed over broadband on a touchpad, the storied eight p.m. soaps that once lit up living rooms seem as dated as gift shop chotchkies.
The better for my daughter -- and for Netflix, the web-based on-demand video platform. Not only has it been hoovering up international subscribers with its slickly-turned U.S. productions like "House of Cards" and "Stranger Things." It's also pumping out its own global fare, dreamed up, acted and produced with local talent. In a road show last month, the streaming juggernaut rolled out its new offerings for Latin America: 50 original productions through 2018, between series, films, and standup comedy, featuring local actors and directors, and filmed on location. Calling on Brazil earlier this year, chief Reed Hastings even suggested that Netflix might produce its own novelas, the crown jewels of Latin television.
Brazilians, for one, aren't about to forsake their novelas, which still anchor programming for legacy broadcaster TV Globo and its smaller rivals, Band, Record and SBT. For one thing, fast internet connections remain beyond the reach of most households. And yet the surge in broadband, a boom in smartphones and televisions, and a footloose middle-class youth culture with little patience for their parents' pastimes have opened the curtains to new entertainment delivered in a more flexible fashion.   
Those shifting preferences are tailored to companies such as Netflix. Its Latin America playbook now includes titles such as "Edha," an Argentine thriller centered on the life of a fashion designer; "Diablero," a Mexican horror fantasy about a priest who hires a devil hunter; and a second season for "3%," the Brazilian sci-fi dystopia, which drew critical acclaim abroad. 
It's unclear how many new subscribers such offerings have won; Netflix doesn't publicize subscriber data by nation. However, in a recent interview, chief content officer Ted Sarandos told me that roughly half of the company's 104 million viewers live outside the U.S. "People appreciate their own talent and actors playing in local stories and speaking their language beautifully," Sarandos said.
It may seem like folly to challenge Latin American titans like TV Globo and Mexico's Televisa on their home turf at the genre they've nurtured and hawked for decades. But monopolies also falter. Once unrivaled, Brazil's giant TV Globo has been losing ground to digital media for years. Prime-time dramas can occasionally still make spectators swoon, but blockbusters like the 2012 "Avenida Brasil," which drew 46 million regular viewers, are getting rarer. Globo has hedged by investing heavily in pay television, but after a two-decade surge, cable too has stopped growing.
Perhaps that's no surprise. Independent producer and media critic Gabriel Priolli says television's business model is outdated. "I'm a good example of what's happening," Priolli told me. "I was born in 1953, three years after Brazilian television was launched. Today I basically watch only pay-per-view sports and series on demand, when and for how long I want. I find it irritating to wait for my favorite TV program to start. Imagine younger viewers."
One indication that Big Television is worried is that Globo has never agreed to license its programs to Netflix, while Televisa -- whose soaps are also losing their suds -- last year rescinded its agreement to allow the streaming company to offer network shows online. Netflix also has managed to poach some of the network's prize breadwinners, including Wagner Moura, who played the Colombian drug kingpin Pablo Escobar in the 2016 series "Narcos," and Bianca Comparato, the lead in "3%." And one of the continent's best known filmmakers, Jose Padilha ("Elite Squad"), is at work on a long-awaited series based on the sprawling political corruption case known as Carwash.
The networks have taken note. Both Globo and Televisa recently launched their own streaming apps to air Hollywood and national programming, including sporting events, which Netflix has eschewed. How will the region's restless new viewers respond? Log in and see.
To contact the editor responsible for this story:
James Gibney at jgibney5@bloomberg.net
Before it's here, it's on the Bloomberg Terminal.
LEARN MORE