White House
Trump Doesn't Care If His Proposals Become Law
Immigration restrictions? Affirmative action rollbacks? Banning transgender soldiers? The point is to rile up the base.
by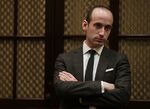 Stephen Miller is back.
The White House's immigration expert burst onto the legislative scene back in January, when he was the public flag-bearer for President Donald Trump's bungled executive order seeking to restrict immigration from seven mostly-Muslim countries.
Critics lampooned Miller back then for media appearances loaded with authoritarian swagger ("The powers of the president to protect our country are very substantial and will not be questioned," he said), combative brio (judges blocking Trump's order were engaging in "a judicial usurpation of power," he said) and raw political ineptitude (Congress wasn't consulted about the secretly crafted order, the federal bureaucracy wasn't alerted and the public backlash wasn't anticipated).
Miller disappeared from center stage after that debacle but -- just in time to fill the bonkers-behavior-void left by Anthony Scaramucci's exit from Trumplandia -- he popped up at Wednesday's White House press conference to explain the president's support for a new immigration bill.
The presser was embroidered with lots of fun stuff Miller-watchers have come to expect. It quickly devolved, for example, into a pair of ribald face-offs with two reporters, Jim Acosta of CNN and Glenn Thrush of the New York Times. Miller also structured his performance as a civics lesson brightened by his confidence that anyone doubting the wisdom of a bill seeking to cut annual immigration rolls in half was ill-informed, anti-worker or sort of un-American.
But let's leave aside for now the immigration proposal's merits and take up a different pair of questions: Why Miller, and why now?
The White House just survived a week of seismic West Wing upheaval that included high-profile staff departures, a new chief of staff, a failure to repeal or even fine-tune Obamacare, and Congress forcing Trump to sign a Russia sanctions bill. Republicans on Capitol Hill have begun ignoring or defying Trump, clearly signaling their preference for leaving Obamacare and daily Twitter jousting behind so they can put tax legislation on the table.
Amid all of this chaos, the White House decided yesterday to throw its weight behind an immigration bill that has very little chance of moving through Congress, involves a contentious issue many legislators would rather not address right now, and relies on a polarizing, vaudevillian figure like Miller as its advocate. That doesn't seem to make much sense.
It does make sense, however, if the White House really isn't committed to a policy battle over immigration reform – any more than it's really committed to banning transgender people from serving in the military. The Pentagon has ignored the White House's transgender ban, which the president rolled out on Twitter last week, but has done little since to try to make his threat a reality.
Another new White House initiative appears to involve using the Justice Department to make sure that white people aren't being discriminated against in college admissions. The New York Times reported on Wednesday that it had obtained a White House document outlining a plan to investigate and possibly launch litigation targeting colleges and universities engaged in "race-based discrimination."
Sarah Huckabee Sanders, a White House spokeswoman, dismissed the Times story, saying the Justice Department is always interested in monitoring discrimination claims.
Regardless of how vigorously the White House winds up investigating discrimination against white people, the thread linking that effort to the transgender ban and the new immigration bill is that all three involve direct appeals to a core part of Trump's electoral base: blue-collar, white workers who believe their livelihoods are threatened by immigrants, by a society that favors people of color, and by a culture overly invested in ensuring diversity in public institutions like the military.
The president is the steward of a White House under siege right now, mired in wide-ranging investigations of possible 2016 campaign collusion with the Russian government, the business dealings of Trump's son-in-law Jared Kushner, and Trump's own financial ties to Russia. The White House has little to show thus far in the form of legislative accomplishments, and Team Trump routinely looks more like a television sitcom rather than the command center of the federal government.
Trump, as I've argued in this space before, isn't overly concerned about legislative outcomes like a new health-care bill or a new immigration bill. He cares more about "winning" and about cultivating his own image, and he defines both of those things in his own special way –- hence his willingness to pop off randomly with new proposals when he feels attacked or he's worried about falling behind.
Trump is willing to be polarizing in the same way that Sean Spicer, Kellyanne Conway, Steve Bannon and Stephen Miller were and are polarizing: They are primarily in this thing for the battle, party and public be damned.
So don't be surprised that Trump, Miller, and the rest of the White House are willing to push an incendiary immigration proposal into a legislative black hole at a time when their administration has so much else at stake. It's because these folks aren't really about crafting sound public policy. They're all about their base.
To contact the editor responsible for this story:
Jonathan Landman at jlandman4@bloomberg.net
Before it's here, it's on the Bloomberg Terminal.
LEARN MORE