view
Latin American Left Indulges Maduro
As Venezuelan democracy unravels, regional leaders have been all but mute.
by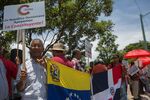 Ballots were still being counted in Venezuela the day after, but one result of the July 30 vote to pick a national assembly to write a new national constitution is already in. The Latin American left, which roundly cheered the vote, is a big loser.
Start with the obvious. Even by the standards of Venezuela's damaged democracy, the plan to write yet another Venezuelan constitution -- the nation's 27th, mind you -- was a travesty. The government never bothered to consult Venezuelans about whether they wanted a new charter, as the current constitution mandates, and answered public outrage over such fiat with brutal repression; some 125 people have died in the backlash since April, at least 10 of them on Sunday.
Thanks to the official rules -- which heavily weighted the vote to regime-friendly districts -- the vast majority of candidates for the 545-member assembly were shills for the ruling socialist party. The new body, conveniently, will have authority over the pesky opposition-controlled national legislature, including the right to disband it altogether and gift Latin America's leading autocrat with even more discretionary powers.
You might think all that would give backers of democracy pause, and yet leading figures on the Latin American left have been all but mute when they haven't outright blessed the Maduro government's folly and attacked dissenters as capitalist tools or proxies for gringo imperialism.
Brazil's Workers Party, once hailed as a beacon for the new Latin American left, has led the way, with party president Gleisi Hoffmann enjoining the faithful at a meeting of a regional leftist compact to show "support and solidarity" as the Maduro regime faces the "violent offensive of the right" in its "new phase of neoliberal capitalism."  
Communist party higher-ups and leftist leaders in Chile and Colombia, and assorted social organizations across Latin America, have hailed Venezuela's hapless leader and offered anodyne talk of peaceful negotiation, forgetting that Maduro's strong-arm tactics have all but obliterated any prayer of dialogue. And although Uruguay's Luis Almagro, the outspoken secretary general of the Organization of American States, has sharply rebuked Venezuela's authoritarian jag (he called Sunday's vote a "day of mourning,") his nation's ruling leftist coalition, the Broad Front, has ingratiated itself to the Bolivarian leader with calls for Venezuelan "self-determination."
Such diffidence before what Amherst College political scientist Javier Corrales has called the "grotesque distortion of democracy" is puzzling, to say the least. After all, a little more than three decades ago, left-wing parties and militants were the targets of some of the world's most ruthless machines of democratic suppression. Leading intellectuals were jailed or exiled for speaking their minds, when they weren't outright "disappeared" by the juntas' handlers.
The left fought back and rode the return of democracy into mainstream politics, and eventually into presidential palaces across the Americas. But their political fortunes tumbled with the end of the commodities bonanza, a bounty they milked but failed to marshal, and nowhere more dramatically than in Venezuela.
In time, even some of the most sympathetic leftist thinkers began to recant and speak up about the policy failings of hardline left-wing governments, as MIT's marquee public intellectual Noam Chomsky did earlier this year. In May, a list of prominent Latin American intellectuals publicly decried Maduro's assault on democratic institutions and scolded fellow left-wingers who turned a blind eye to the regime's authoritarian turn.  
The disaster in Venezuela, and the reversal of fortunes across the region, might have been an opportunity for cashiered left-wing parties to rethink the whack-a-mole anti-Yankee narrative that has long been the default in Latin America. But the indulgences continue, as was clear from the drumroll of kudos for Venezuela's "historic" vote rolling in Monday from Bolivarian sympathizers from Santo Domingo to La Paz.
Of course, a lot of this may be political posturing that has less to do with Venezuela than with domestic agendas. "Going hard left is a way for parties to avoid discussion about what have went wrong, and the old script of anti-imperialism, and the capitalist menace, generates easy consensus among radicals, allowing them to repair infighting," Corrales told me.
Consider Brazil's Workers Party, or PT, whose spendthrift populist agenda outran the commodities boom, pushing the country into its worst recession on record and bruising austerity. "The PT's main threat today comes not from the right, but from the extreme left parties, who blame the mainstream for being too pragmatic and forsaking ideological commitments," said Oliver Stuenkel, a professor of international relations at the Getulio Vargas Foundation in Sao Paulo.
That may be just politics as usual, but all the jockeying does little for Latin American democracy, which could use new parties and fresh ideas instead of fossils with grudges. A new survey commissioned by Agora!, a Brazilian grassroots political movement, found that 59 percent of those surveyed swore they wouldn't vote for a candidate from Brazil's biggest parties (PMDB, PT and PSDB), while 52 percent said that "only those who have never been a candidate for any party can really bring about the necessary renewal for Brazil."
If Latin America's faltering left is searching for a new script, its leaders would do well to listen to the voices of their constituents, not the noise from Caracas.
Before it's here, it's on the Bloomberg Terminal.
LEARN MORE