Early Returns
A Republican Health-Care Bill? Probably Still Dead
Jonathan Bernstein's morning links.
by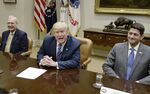 There's been a bit of a backlash to the initial reaction to last week's drama in the Senate, when "skinny repeal" was defeated and Mitch McConnell yanked the health-care bill off the Senate floor, apparently admitting final defeat. Over the weekend, the Donald Trump administration pushed the Senate to take up the bill again, and several observers argued that the striking thing about the bill was just how close it came to passage, and even how close it could still be. 
I think David Super at Balkinization made the best case for that point of view. With "skinny" only failing by one vote, and both John McCain and Lisa Murkowski potentially soft "no" votes, it's not hard to imagine a slightly different bill bringing one of them back. And then whatever passes the Senate might well just go to the House floor; after all, even after four senators threatened to oppose "skinny repeal" unless they were assured it would not pass the House, Paul Ryan gave only very weak public assurances to them. 
There's something to all of that. But I think the case is stronger that the bill never was all that close to passage. 
Take, for example, Ryan's decision not to guarantee "skinny" would never see the House floor. Super interprets that to mean Ryan "strongly suggests that this is just what he plans to do with any bill that passes the Senate. Thus, if any bill does get through the Senate, the ACA is probably doomed." Well, maybe. It's also quite possible Ryan knows or at least suspects he doesn't have the votes to pass "skinny" in the House -- and he failed to give strong assurances because he prefers the bill fails in the Senate than in the House. 
Nor should we assume either McCain or Murkowski can be easily persuaded with tweaks to the bill without pushing other senators in the other direction. (As far as procedure is concerned, Republicans would need to pass a second motion to proceed in order to resume working on the bill, after which McConnell could offer any new formulation as an amendment. That will be the case as long as a reconciliation bill under instructions from the fiscal-year 2017 budget resolution is still in order.) 
It's also worth remembering that the final "skinny" version of repeal, while obviously not a bill Democrats would want, gave up on several significant elements of the original House bill. It's not impossible, even now, that some bill will pass that is the equivalent of the "pretend and rename" strategy. I don't think anyone doubts that Trump would go along with a charade in which a bill passed with little or no actual substance could be passed off as "repeal and replace." Conservative senators who supported "skinny" basically did so on the basis that it was better (from their perspective) than the status quo -- presumably, so would a bill that stripped five dollars from Affordable Care Act funding and included a proclamation that Obamacare Is Dead. 
As always, I'm not predicting anything. It certainly is possible McConnell could find his one more vote, and the House could then pass whatever the Senate has passed first. Activists on both sides who care about the issue should continue to act as if it could pass at any moment. But without any further evidence, my best reading of what we've seen remains that the bill has been almost dead since January, and the main thing pushing it forward has been efforts to duck responsibility for the final death (see items from Dave Hopkins and Matthew Dickinson below). But even if that's correct, it's also always been possible that ducking blame could back Republicans into almost accidentally passing something, and that's still possible, albeit somewhat less so, today.
1. Dave Hopkins on the demise of the Republican health-care bill.
2. Matthew Dickinson on the failed Republican health-care bill. 
3. Julia Azari at Mischiefs of Faction has a very different perspective on the Republican health-care bill and how it fits in with Trump and the current Republican Party. 
4. Sarah Binder at the Monkey Cage with a Congress-based perspective on the defeat of the Republican health-care bill. 
5. Jack Goldsmith is very good on Trump's weakness within the executive branch.
6. And Jamelle Bouie on Trump's big plans to scare (white) people. 
Get Early Returns every morning in your inbox. Click here to subscribe.
To contact the editor responsible for this story:
Brooke Sample at bsample1@bloomberg.net
Before it's here, it's on the Bloomberg Terminal.
LEARN MORE