Early Returns
Trump's Biggest Obstacle to Getting His Way? Himself
Jonathan Bernstein's morning links.
by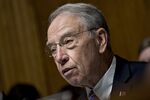 So much news on Thursday, but one of the big stories was that Senate Republicans have been blocking Donald Trump's ability to make recess appointments since the beginning of the year, and they intend to continue doing so during the August break. Add to that Senate Judiciary Committee Chairman Chuck Grassley's pledge that he would not consider confirming any new attorney general nominee anytime this year, and the president appears to be stuck with either current Attorney General Jeff Sessions or a vacancy. 
All of this is a much better example of Trump's current weakness than the health-care vote, which was really more about Congress and the Republican Party. 
But everyone knows that Congress sometimes defies the president. What's important to understand about the presidency as a constitutionally weak office is that executive-branch departments and agencies can refuse to listen to him, too -- even where a president's constitutional powers are strongest, with the military. 
Trump may eventually get his way on this one -- but only if he's willing to put in time and effort, and even then he might wind up losing. 
Presidents who depend on giving orders to get what they want aren't going to get very much of it. And their ability to bargain successfully depends on their skills, their popularity and their professional reputations. Trump has little of the first two, and his reputation is in tatters.
That doesn't mean his administration won't get things done. But unless Trump finds a way to turn things around, he's going to have very little to do with anything he wants to happen. Including ridding himself of an attorney general he's turned against and replacing him with his own choice. 
1. Dan Drezner on economic statecraft.
2. Diana Fu at the Monkey Cage on China and feminists. 
3. Fred Kaplan on the Iran deal. 
4. Philip Klein, before the final vote, on Republican acceptance of Obamacare.
5. My Bloomberg View colleague Albert Hunt on lessons of life in the White House. 
Get Early Returns every morning in your inbox. Click here to subscribe.
To contact the editor responsible for this story:
Brooke Sample at bsample1@bloomberg.net
Before it's here, it's on the Bloomberg Terminal.
LEARN MORE