view
A Republican Showdown in West Virginia
The bitter contest for the party's nomination for the Senate is remarkably unaffected by Trump (so far).
by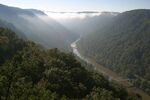 The race for the Republican nomination for the U.S. Senate in West Virginia turned bitter fast.
Patrick Morrisey, the state's attorney general, announced his bid last week. On day three of his campaign, he was telling me over the phone that his chief rival, Representative Evan Jenkins, is a Hillary Clinton-supporting Obamacare lover. The Jenkins campaign, meanwhile, is portraying Morrisey as a tool of special interests who is only posing as a rock-solid right-winger. Whoever wins will take on Democratic Senator Joe Manchin.
What's remarkable about the race so far is how little it seems to be affected by President Donald Trump. He is more popular in West Virginia than in any other state. If he were going to reshape his party from top to bottom, you would expect to see some signs here. Yet the Morrisey-Jenkins contest is shaping up to be another round in the Tea Party vs. establishment slugfest that started long before Trump started running for president.
Morrisey is the conservative activist. As attorney general he sued the Obama administration over gun control, environmental regulations, illegal immigration and Obamacare -- in each case fighting what he saw as federal overreach. He led a coalition of state attorneys general who won a nationwide stay of a water-regulation initiative, which the Trump administration is now withdrawing.
Morrisey is part of a new trend on the right. Candidates are rising because of their records as litigators rather than legislators. Senator Ted Cruz came to office by touting his record of fighting for conservative causes in court. Josh Hawley, the new attorney general of Missouri, is being courted to run for the Senate, too. As Congress gets less and less functional, and the courts more and more important, it may be that politicians start to find it easier to establish their reputations for getting things done by filing lawsuits than by passing laws.
Jenkins, who was a Democrat until 2013, is the relatively moderate of the two. But he is still pretty conservative, notwithstanding Morrisey's criticisms of him. Even when he was a Democrat, he opposed Medicaid expansion. It may be, too, that voters in West Virginia will not mind that Jenkins was a Democrat until quite recently: A lot of them were, too. The state's realignment to the Republicans has been rapid.
While Morrisey is exaggerating the ideological difference between the two candidates, the attacks on the attorney general from the Jenkins camp are wildly off the mark. Take the portrayal of Morrisey as a servant of the pharmaceutical companies. Democrats tried this line against him when he ran for re-election as attorney general last year, and now Jenkins has borrowed it.
Newspapers in the state have, however, credited Morrisey for doing what he can to combat the opioid epidemic. He has been involved in multiple lawsuits against drug companies that have led to scores of millions of dollars in settlements.
Particularly scurrilous are the Jenkins campaign's swipes at Morrisey's wife, Denise. She works at and owns some shares in a lobbying firm that does work for Planned Parenthood, even though she herself is not registered to work on that account. Supposedly that makes her husband less of an opponent of abortion than anything he has said or done himself would suggest.
Manchin, the incumbent Democrat, has won five statewide elections. But he is in trouble because states are more and more inclined to vote for the same party in presidential and Senate races. In 2016, a Republican won every Senate race in a state that went for Trump, and a Democrat won every Senate race in a state that went for Clinton.
Manchin has had to finesse the differences between his state and the national Democratic Party. Morrisey tells me that the senator's efforts have led him to be out of step with voters on guns, abortion and Obamacare: "On issue after issue, he has let the state down."
Tim Groseclose, a professor of economics at George Mason University, points out that no congressional candidate in recent years has won among voters who went for the other party by more than 13 points in the last presidential race. West Virginia went for Trump by 42 points.
Senator Manchin had better hope that the battle between Morrisey and Jenkins gets uglier still.
To contact the editor responsible for this story:
Katy Roberts at kroberts29@bloomberg.net
Before it's here, it's on the Bloomberg Terminal.
LEARN MORE