Jobs
New York City Goes Back to Work
Until 20 years ago, the U.S.'s largest city was a jobs laggard. After a remarkable turnaround, it faces new challenges.
by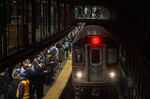 In June 1976, just 48.7 percent of New York City residents aged 16 and older had jobs. Only one state in the nation, West Virginia, had a lower employment-to-population ratio. The national ratio at the time was 56.8 percent.

The picture on labor-force participation -- the percent of those 16 and older who have jobs or are actively looking for them -- was similar. New York's rate of 54.7 percent ranked lower than every state but West Virginia's, and was well below the national rate of 61.5 percent. 1

In other words, decades before labor-force dropouts had become a source of national economic worry and a campaign talking point, New York City was struggling with the problem. It kept struggling for two more decades -- the gap between the city's labor-force participation rate and the nation's peaked in early 1996, at 11.6 percentage points.
After that, though, things began to change. As of this June, according to state jobs data released Friday by the Bureau of Labor Statistics (which includes estimates for the country's most populous city, New York, and county, Los Angeles 2 ), New York City had pulled almost even with the rest of the country, with its 61.7 percent labor-force participation rate just 1.1 points short of the national rate.
I am a little dubious of that sharp increase since January, which will be subject to revision "as updated inputs to the models become available," according the BLS. But the overall picture, especially since the mid-1990s, is of a long rise in labor-force participation in New York City even as the national rate plateaued and then began to decline. The employment-to-population ratio picture is similar, if subject to more business-cycle ups and downs:
Just to be clear: These statistics cover only New York City residents. Almost a million people who work in the city don't live there, 3 but they're not counted, while city residents who commute to work in the suburbs are.
Even now, about two-thirds of the states score higher on employment-to-population and labor-force participation than New York City does. The leaders are North Dakota, Utah, Minnesota, South Dakota and Wisconsin. 4  So New York City is still no standout, but it has clawed its way from the back of the pack (West Virginia remains in last place) to a far more respectable position.

One simple reason for this is that the city has been creating lots of jobs. Payroll employment has risen 32.5 percent in New York City since the beginning of 1996, compared with a 23.7 percent gain nationally. It could also be that falling crime rates and other improvements have led more people with good jobs in New York City to live in the city rather than its suburbs, although that may be canceled out by all the people with jobs in the city being forced out to the suburbs by high real estate prices. Another factor has to be the big wave of immigration to the city over the past few decades: 37.2 percent of New York City's population is foreign-born (compared with 13.2 percent nationally), according to the Census Bureau, and immigrants in the U.S. are more likely than native-born Americans to be employed. I thought retired New Yorkers moving to warmer climes might be a factor, too, but as of 2010 at least New York City's percentage of residents aged 65 and older wasn't dramatically lower than the nation's (12.1 percent to 13 percent).

All in all, it's a pretty remarkable turnaround -- especially if it keeps going. New York City has been making headlines lately with its subway system's struggles and its growing homelessness problem. These are to some extent the flip sides of its big employment success. In 1976 a declining, shrinking New York City had too few jobs but more than enough housing and infrastructure. Now it has different things to worry about.
(
Corrects percentages of New York's immigrant population and residents 65 and older in eighth paragraph of article published July 24.
)
To contact the editor responsible for this story:
Brooke Sample at bsample1@bloomberg.net
Before it's here, it's on the Bloomberg Terminal.
LEARN MORE