White House
Lashing Out Under Pressure Is Just What Trump Does
The president has harsh words for the special counsel investigating his Russia links and business deals. So what?
by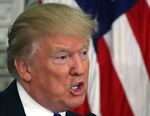 President Donald Trump told the New York Times yesterday that he expected Robert Mueller, the Justice Department's special counsel, to keep his investigation of White House shenanigans narrowly focused on possible collusion with the Kremlin during the 2016 presidential election.
QuickTake Guide to the Russia Investigations
By narrowly focused, Trump meant he didn't want Mueller digging too deeply into the Trump family's finances and business deals. "I think that's a violation," Trump told the Times. "Look, this is about Russia."
Mueller doesn't seem to be listening.
Bloomberg News reporters Greg Farrell and Christian Berthelsen reported on Thursday that Mueller's investigators are, in fact, casting a broad net. They are reportedly looking well beyond campaign collusion and exploring, among other things, condo sales to Russians at Trump properties, Trump's sale of a Palm Beach estate to a wealthy Russian, a bank in Cyprus, a beauty pageant Trump hosted in Moscow, a money-laundering investigation launched by former Manhattan U.S. Attorney Preet Bharara and the Trump Organization's partnership with a mob-tied development firm, the Bayrock Group.
A Trump attorney, John Dowd, told Bloomberg News that he believes an examination of Trump's business dealings exceeds Mueller's mandate. That point is debatable because the Justice Department empowered Mueller to look at "any matters" arising from his investigation -- and investigations often take unexpected turns. That's one of the reasons they're feared.
Dowd also said that he wasn't aware that Mueller's probe had come to include an examination of Trump's business dealings. That may be so, but it stretches the imagination to believe that Trump's legal team, at a minimum, didn't see this coming. Both the Times and the Washington Post broke the news last month that Mueller's investigation involved a probe of possible financial crimes and money laundering.
The president himself has undoubtedly been pondering what a close examination of his finances and deals might unveil. This is why he issued the warning to Mueller, and why there's a strong possibility that Mueller's time at the helm of this investigation will end badly, a la James Comey. Trump fired Comey as director of the Federal Bureau of Investigation after Comey declined to curtail an investigation of links between Russia and Trump's first national security adviser, Michael Flynn.
Trump is unlikely to care if a collusion probe ensnares some of his campaign minions, or even sullies his reputation, as long as it stops short of criminal charges. But he cares deeply that Mueller, by deciding to follow the money, could unravel some of the mythmaking that the author of "The Art of the Deal" and the star of "The Apprentice" has carefully orchestrated for so many years.
As Mueller certainly knows by now, Trump's business history doesn't merely have a closet full of skeletons, it has warehouses full of them. Among the many subjects Mueller is examining, Trump's partnership with the Bayrock Group stands out for being particularly troubling, as I've noted in earlier columns.
Bayrock operated two floors below the Trump Organization in Trump Tower and developed the Trump Soho hotel and other projects with Trump and his two eldest children. One of Trump's partners at Bayrock, Felix Sater, was a Russian immigrant to the U.S. and a career criminal with ties to Russian and American organized crime. Funds flowed into Bayrock from murky sources overseas, and Bayrock compensated Trump handsomely even though most of the deals belly-flopped. Sater, who has also worked as an informant for the U.S. government, has remained in the Trump orbit even though the Bayrock partnership ended several years ago.
Trump was well aware of Sater's mob ties (he testified under oath about it twice) and yet maintained a close working relationship with him and his company for years (despite occasionally telling the media otherwise).
If Mueller's team begins unpacking these kinds of relationships -- and trying to answer questions about whether Russian funding or Russian influence came to bear on Trump through individuals like Sater -- the president is likely to continue lashing out.
He has a history of doing that under pressure.
When Trump nearly went personally bankrupt in the early 1990s, he took to the media to savage bankers who put him on an allowance while they tried to restructure more than $3 billion in business loans he couldn't repay. When former Trump University students sued him for fraud, he targeted one of the judges in the case and lambasted him repeatedly.
The Mueller investigation is unlike anything Trump experienced in his business career, however. And with his son, Donald Jr., and his son-in-law, Jared Kushner, also under federal scrutiny and about to testify before Congress about their own dealings with Russians during the 2016 campaign and after, the president may feel the vise tightening.
If that's the case, then Trump and Mueller are headed for an epic collision that may occur well before the Justice Department investigation reaches its conclusion.
To contact the editor responsible for this story:
Jonathan Landman at jlandman4@bloomberg.net
Before it's here, it's on the Bloomberg Terminal.
LEARN MORE