view
Ankle Bracelets Are Brazil's Newest Must-Have
Overcrowded jails and a wave of corruption arrests spur a boom in electronic tracking devices.
by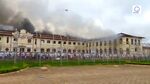 Forget about Fitbits and Google Glass. Ankle bracelets are the rage in wearable electronics in tech-savvy Brazil. Some 32,000 criminals and suspects there sport one of a handful of models, with at least that many again on the waiting list. So intense is the demand for strap-on trackers that scores of inmates who otherwise might be out on probation or reduced sentences are still behind bars, while the lucky few deemed low-risk perps are out of jail simply on their word they'll walk the straight and narrow.
Part of the anklet boom is driven by the giant corruption crackdown known as the Carwash case, which has ensnared executives, bureaucrats and political operators like former Workers Party power broker Jose Dirceu, sent home in May with an ankle bracelet to serve out his sentence for a prior corruption offense and await appeal on another conviction. He was one of the lucky ones. A fallen aide for President Michel Temer who'd been nabbed in a sting operation hauling a suitcase full of suspicious cash and then transferred to home arrest had to be driven some 210 kilometers to be fitted with the nearest available anklet. Another one of Temer's minions, jailed for influence peddling, sparked public ire when he was sent home with no anklet.
Monitoring criminals beyond prison is hardly new. Such devices have been in use for more than a quarter-century to cull lesser offenders from dangerous penitentiaries and promote rehabilitation of inmates close to term. Improved satellite-driven tracking technology, which has replaced clunky radio frequency gadgets, and an overhaul in criminal codes in favor of alternative sentencing and plea bargains, have stoked global demand for mobile monitors.
But in Latin America, digital tags have become a crucial recourse, as overcrowding has turned cell blocks into ticking bombs, and hardened felons mingle with short-timers. El Salvador, Panama and Guatemala also have introduced electronic tracking of offenders to defuse their explosive prisons. Nowhere is that crowding crisis more evident than in Brazil: With some 622,000 inmates, it is home to Latin America's largest, and the world's fourth largest, prison population, with inhabitants crammed three, four and five at a time in cells built for one.
While policymakers anguish over how to pacify prisons and reintegrate offenders into society, enterprising security businesses are mining a new niche that has lured investors from Brazil and abroad. Spacecom, a Brazilian company specializing in electronic surveillance, has seen a threefold increase in sales of Brazilian-made anklets for prisoners, executive director Marcelo Almeida told me. Almeida estimated that another 30,000 prisoners could be shifted to electronic monitoring this year, out of a potential total of 120,000 eligible inmates nationwide. Authorities reckon they can save anywhere from $12,000 (in Costa Rica) to $72,000 a year (St. Maarten) for every tagged inmate removed from prison.
Although the long-term impact of such technology is still under review, policymakers are convinced that electronic monitoring can temporarily curb crime and sharply reduce the cost of prisons on society.  As is often the case in Latin America, however, the technology is far ahead of the bureaucrats.
In Colombia, nearly 2,300 inmates cleared for house arrest were languishing in jail late last year when a contract dispute interrupted the supply of monitoring bracelets. Costa Rican authorities stirred a public backlash by declining a contract for bracelet trackers from a private supplier, favoring instead a cheaper solution by a state-owned company with a history of spotty service and little experience in digital gadgets. Likewise, fiscal retrenchment has led local authorities in Brazil to slash security budgets, including for prisons. As of March, delayed payments held up the distribution of ankle monitors in at least five Brazilian states.
Oh well, maybe they could just send them home with some souped-up Havaianas instead.
To contact the editor responsible for this story:
James Gibney at jgibney5@bloomberg.net
Before it's here, it's on the Bloomberg Terminal.
LEARN MORE