Companies
Now the Cloud Over Ackman's Head Says 'Chipotle'
The investor who got clobbered by Valeant and Herbalife thought the burrito chain would be a winner. Oops.
by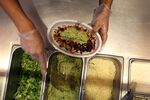 I realize I've been a little rough on our favorite billionaire hedge fund manager, Bill Ackman, since joining Bloomberg View, with columns about the $4 billion bath he took betting on Valeant Pharmaceuticals International Inc., as well as his difficulties with Herbalife Ltd., the stock he shorted only to see it go up, up, up. 
So let's jump on a bit of good news: Ackman's fund, Pershing Square Capital Management, is making an absolute killing on Restaurant Brands International.
Since 2012, Pershing Square has been the company's largest stockholder, 1 holding nearly 40 million shares. Ackman bought it at an average cost of $16 a share. With the stock currently topping $60, Ackman recently decided to take a little money off the table; as Bloomberg News reported last week, he sold 10 million shares, or about a quarter of the stake, for a gain of $450 million. Not too shabby.
Alas, here it is not even a week later and Ackman is back to playing the hedge-fund version of Joe Btfsplk, the bad-luck character in the old Al Capp cartoon, Li'l Abner, who walks around with a dark cloud over his head. You've perhaps read about Chipotle Mexican Grill Inc. voluntarily closing a restaurant in Virginia after at least 13 diners became violently ill? And that this incident took place less than two years after an outbreak of E. coli had affected dozens of Chipotle customers across the country, some of whom had to be hospitalized?
Guess who's Chipotle's biggest shareholder. Yep. Bill Ackman.
Unlike Ackman's Valeant and Herbalife bets, both of which were deeply flawed in my view, 2  his decision to invest $1.2 billion in Chipotle had a lot of potential upside. He bought the stock in September 2016, about 10 months after the E. coli outbreak. The company's earnings had fallen by 95 percent. Its same-store sales, which had fallen 36 percent that January, were still down 20 percent compared to the months before the crisis. And the stock had been hammered.
But as Ackman noted in a presentation he made to European investors three months ago, "We believe that a good time to buy a great business is when it is in temporary trouble." Though Ackman can hardly be labeled a value investor, that sentiment is part of the value investor's creed: if you believe in a company, the time to buy it is when everyone else is running for the exits.
In that same presentation, Ackman said that Chipotle's food was a significant cut above fast-food and fast-casual competitors; that with only 2,000 or so restaurants, it had plenty of room to grow; that it had "strong unit economics and extremely high returns on capital"; and that it was a "high quality, simple, predictable, unlevered, free-cash-flow-generative business."
Not every investor agreed with this analysis, of course; Chipotle was a stock the shorts were swarming over. But that's what makes a market.
In any case, in December, after a series of meetings with Ackman--which sounded like a love fest, to hear Chipotle executives talk about them--the company agreed to add four new directors, two of whom were Ackman's candidates. The company also ousted one of its co-chief executives, instituted a raft of new food safety measures and began planning a marketing campaign to win back customers.
By January, same-store sales were 25 percent higher than they'd been before the E. coli outbreak. The stock, however, continued to lag. Why? Jim Cramer, the host of CNBC's "Mad Money," had an interesting theory: The American memory for corporate crises or scandal was 18 months, he believed, so that's what it would take for Chipotle's stock to recover.
It turns out that Cramer knew whereof he spoke. By May, almost 18 months after the E. coli crisis, the stock hit a 14-month high and Ackman was solidly in the black. To be sure, it soon began falling again when the company announced that it was facing higher marketing and food costs. But neither factor necessarily invalidated Ackman's thesis, and he remained convinced that Chipotle was going to get its mojo back.
The Virginia food scare doesn't invalidate it either. But it sure doesn't help. You can argue that what happened in Virginia--which amounts to a localized case of food poisoning--is very different from a national E. coli scare. We've all had bouts of restaurant-induced food poisoning, and they rarely make the newspapers, much less lead to a restaurant closing. 
But Chipotle's latest problem reminds people of what happened two years ago. It creates negative sentiment on Wall Street, where the stock was down over 4 percent on Tuesday. It will probably cause the government, which conducted an investigation after the E. coli scare, to poke around. And it raises the possibility that no matter how good the food might be, it'll take people a lot longer than 18 months to come back to a restaurant chain that seems to have a knack for getting customers sick.
None of which is Ackman's fault. It does show, though, that he's got some distance to go before he gets that dark cloud off his head.
When he bought the stock, the company was simply Burger King. The name was changed after it bought Tim Hortons. It has more recently added Popeyes to its portfolio of fast-food chains. Another large shareholder, by the way, is Warren Buffett.

Though for different reasons. Valeant's business model was flawed, which Ackman overlooked in his excitement over the company's emphasis on "shareholder value." With Herbalife, his analysis--that it was more pyramid scheme than legitimate company--was valid, but the only way he could win was if the government shut Herbalife down. And that was never going to happen.
To contact the editor responsible for this story:
Jonathan Landman at jlandman4@bloomberg.net
Before it's here, it's on the Bloomberg Terminal.
LEARN MORE