Editorial Board
China Could Have a Say on Venezuela's Future
"Non-interference" is increasingly not an option for Venezuela's biggest creditor.
by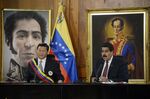 More than 7 million Venezuelans went to the polls to vote against President Nicolas Maduro last weekend. But the more consequential opinion on Maduro's future may belong to China, Venezuela's biggest creditor and one of the few likely sources of funds needed to avert a possible default later this year.
The unofficial referendum, which was organized by the opposition, showed the depth of popular discontent with Maduro's plans to rewrite the constitution and enshrine himself in office. Turnout, at more than a third of registered voters, far exceeded expectations.
QuickTake Venezuela's Revolution
Even as protests against Maduro's repression have intensified -- more than 90 people have died in clashes this year -- the president has shown little sign of backing down. The constituent assembly he has announced for later this month is the culmination of two years of escalating autocracy, during which he has blocked an official recall referendum and suspended the powers of the opposition-controlled legislature.
Meanwhile, diplomatic efforts to halt Venezuela's creeping dictatorship have come up short. Last month, for instance, the Organization of American States failed to pass a resolution criticizing Venezuela, stymied by a small group of Caribbean nations bought off by Venezuelan oil and economic aid. Limited targeted sanctions by the U.S. have also proved ineffective.
Here's where China comes in: Venezuela owes it more than $62 billion for loans, and is behind in the oil shipments used for payment. A Venezuelan default -- or worse, a slide into civil war -- is not in China's interests. On the other hand, China could benefit from better ties with Venezuela's opposition parties, which have threatened to repudiate debt instruments that lack the legislature's approval. More broadly, Chinese aid and investments are crucial to Venezuela's escape from economic misery.
A Chinese-led effort to show Maduro the error of his ways might have some impact. Meanwhile, the U.S. and other countries should emphasize that rewriting the constitution in the face of public opposition would only deepen Venezuela's isolation and stiffen the penalties against it.
What about China's vaunted pledge of "non-interference" in other countries' internal affairs? Given the choices it faces in Venezuela, China may have little choice but to intercede -- for its own good and for the benefit of the region. President Xi Jinping's has often spoken of China's larger aspirations for global leadership. In Venezuela, he has an opportunity to use China's leverage to help prevent the country with the world's largest oil reserves from turning into a failed state.
--Editors: James Gibney, Michael Newman
To contact the senior editor responsible for Bloomberg View's editorials: David Shipley at davidshipley@bloomberg.net .
Before it's here, it's on the Bloomberg Terminal.
LEARN MORE