Early Returns
McCain's Absence Pushes Republicans Deeper Into the Mud
Jonathan Bernstein's morning links.
by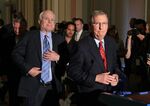 The Republican health-care effort is on hold for at least a week, perhaps more, as John McCain recuperates in Arizona from surgery. With two Republican senators, Susan Collins and Rand Paul, having already said they would vote against the motion to proceed the bill, Majority Leader Mitch McConnell needs all 50 of the others present and voting to have any hope of considering and then passing the bill (with Vice President Mike Pence breaking the tie). It's not clear at all that McConnell has those 50, but at any rate, without McCain he can't take up the bill. 
We don't know when McCain will return, but the calendar is going to start getting dicey thanks to some convoluted procedural rigmarole. Time is running out for the health-care bill to be passed under the reconciliation instructions contained in the 2017 fiscal-year budget, with the fiscal year over at the end of September. If, as the House has signaled, it will quickly take up and pass whatever gets through the Senate, then it shouldn't need too much time. However, it's still possible that something could pass the Senate but not have the votes in the House. If so, we could be in for a time-consuming formal conference committee -- or, more likely, the bill would ping-pong from one chamber to the other until the same version passes both. Even that would normally take weeks that Congress doesn't have now. 
And that's just the beginning. Republicans haven't passed their 2018 budget resolution yet, and they'll need to do that at some point if they want to do a tax-cut bill. That's because in order to pass a tax bill with a simple majority instead of needing 60 votes to defeat a certain Democratic filibuster, the rules require Republicans to first pass a budget resolution, which specifically has instructions for another "reconciliation" bill.
It's not clear whether they can pass a budget with McCain in Phoenix, either; indeed, it's not at all certain that House Republicans will be able to pass a budget at all. And even if they do, they'll still have to come up with a tax bill that 218 House Republicans and 50 Republican senators can support. The tax cut at least is optional and (once there's a budget in place) in no hurry, at least as far as procedure is concerned. But Republicans will need to keep the government funded after the fiscal year ends and raise the debt limit soon, as well as reauthorize some relatively less major programs, too. 
There's a serious logjam, one that already had the Senate canceling two weeks of their August recess, and this delay surely doesn't help things. 
Meanwhile, Obamacare-supporting activists are keeping the phones jammed in Senate offices while major stakeholders (insurers, doctors, nurses, hospitals, AARP and several Republican governors) lobby to defeat the health-care bill. It's still not dead! And some analysts still consider it more likely to eventually pass than not. But very few people think a delay helps McConnell on this effort -- or on the overall Republican agenda. 
1. Matthew Dickinson on Donald Trump's approval numbers. It's a very good case for why Trump won't be hurt (at least in public support) by the latest revelations in the Russia scandal, and more generally the "high floor" view that partisan polarization makes high peaks and deep lows less likely than they used to be. I remain very skeptical, but there's just no way to know at this point.
2. Rick Hasen on the multiplying threats to U.S. democracy. 
3. Scott Clifford and Spencer Piston at the Monkey Cage on homelessness and disgust.
4. Also at the Monkey Cage, Marc Lynch on the Qatar crisis.
5. Suzy Khimm on Democrats and single-payer health care. I still am surprised that adding a public option to Obamacare never became a liberal litmus test. But as much as a public option is more complicated than many supporters believe, single-payer is orders of magnitude more so. And my guess is that a lot of people who support single-payer are conflating universal health insurance (which can be achieved in many ways) with single-payer, which doesn't necessarily guarantee universal coverage. 
6. Philip Klein on the deep roots of the problems Republicans are having with health-care reform. 
7. Brian Beutler on Sean Hannity and Republican projection. I think this is correct. I also don't think it's an exclusively Republican thing ... but I do think it's most common on the Republican side. 
8. And James Downie on Trump as the passive president. 
Get Early Returns every morning in your inbox. Click here to subscribe.
To contact the editor responsible for this story:
Brooke Sample at bsample1@bloomberg.net
Before it's here, it's on the Bloomberg Terminal.
LEARN MORE