Latin America
Latin America Needs an Emmanuel Macron
Who will break the regional stranglehold of politics as usual?
by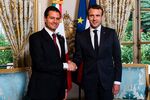 Whether as a haven for political exiles or a playground for the power elite, Paris has been a cherished destination for Latin Americans. But since the rise of Emmanuel Macron, Francophilia has taken on a whole new meaning. Young, camera-friendly, fiscally sensible, and -- most importantly -- unbeholden to legacy parties and their bosses, Macron is a new French leader for disenchanted times. Little wonder that the presidents of Argentina, Colombia, Mexico and Peru, all struggling in the polls, have reached out to him.
As in many other regions, politics in Latin America is damaged goods and bereft of role models. Traditional parties are seen to be in the hands of political fossils who take turns in power, often helping themselves at the trough. Elections go to campaigns with the deepest pockets -- wealthy publicist Joao Doria bankrolled 40 percent of his own campaign for São Paulo mayor -- turning democracy into a club of gray heads with little resonance among constituents. "It's the same parties, winding up in elections over and again," said Monica de Bolle of the Peterson Institute for International Economics. "Where is the political renewal in Latin America?"
Chileans recently ranked political parties as the least trusted and most corrupt of all national institutions, while 81 percent of Brazilians said they disapproved of their political leadership, according to a 2015 Gallup poll. And they're not alone: Earlier this year, the Economist Intelligence Unit ranked only one Latin American nation (Uruguay) as a "full democracy," relegating the rest to the status of "flawed" democracies or semi-authoritarian states.
Indeed, for all the talk about the ebbing Latin American Pink Tide, the region's politics hasn't so much tacked to the right as drifted into democratic doldrums. After all, in a time when political brands like Venezuela's Bolivarian socialism rely on paramilitary gangs to thwart opponents, and Brazil's signature leftwing leaders were found to be in bed with the corporate moguls, yesterday's ideological battle lines seem increasingly nonsensical.
Some of the region's recently elected leaders appeared momentarily to stand for something new. Argentine voters elected Maurício Macri, the scion of a businessman and a former mayor, who parlayed his outsider's cachet into the Casa Rosada in 2015. Likewise, Peruvians last year elected Wall Street veteran Pedro Pablo Kuczynski over Keiko Fujimori, the daughter of a onetime dictator who roiled the country with his messianic brand of authoritarian populism. And Mexicans had high hopes for the dashing Enrique Pena Nieto, who surrounded himself with brainy technocrats and accomplished scholars.
And yet each of this crop of ambitious reformers is struggling with homemade permutations of protests, deadly violence, tumbling approval ratings, and partisan gridlock. Populists are pushing back in Peru and Mexico, while a lackluster Argentine economy and deepening poverty have rallied the fractured Peronists, turning the October midterm elections into a proxy war for the 2019 presidential race.
So instead of El Macron, the region's democracies once again appear poised to embrace lo mismo -- the same old political script. "We've fallen into a kind of vicious cycle in Latin America, alternating between populists and technocrats," Argentine historian Federico Finchelstein, at the New School for Social Research, told me. "The technocrats say we'll manage the country like we manage companies, while populist mother and father figures say they'll take care of the nation. Either way, citizens don't much feel like they're part of the solution," he added.
Still, there are encouraging signs that Latin Americans may be moving beyond deadlock. The Montevideo-based political think tank Ceres has sponsored a series of town halls across Uruguay to invite local communities to weigh in on public policy and national politics. Disappointing economic growth in Chile has given rise to an assortment of new contenders from centrist parties, who are competing for voters eager to move beyond the stale old-guard right versus soft-left Christian Democrats duopoly that has traded power since the days of Gen. Augusto Pinochet.
In Brazil, lawyers, community activists, social entrepreneurs, and tech-savvy business leaders are building grassroots groups to bypass a political system barnacled by traditional parties. One of them is Agora!, (or Now!), a nascent citizen's movement that already has an agenda for the 2018 presidential race: capping campaign donations to curb Brazil's money-talks politics, party primaries to democratize candidate selection, and political reform to allow independent candidates.
"One hero won't save us," said Ilona Szabo, an analyst at the Brazilian think tank Igarape Institute and founding member of Agora!, which has representatives in nine of Brazil's 27 states. "We need a collective effort of citizens from all political tendencies engaged for the public good."
Latin America may not have a political ringer in the wings. But a host of mini-Macrons might just make a difference.
To contact the editor responsible for this story:
James Gibney at jgibney5@bloomberg.net
Before it's here, it's on the Bloomberg Terminal.
LEARN MORE