Editorial Board
Brazilian Justice Has a Long Way to Go
The country's next test: ensuring that allegations about the president receive a full and transparent investigation.
by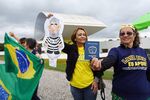 The conviction of former President Luiz Inacio Lula da Silva on corruption charges shows how far justice has come in Brazil.
Yet Brazil's next and stiffer test is in ensuring that allegations about current President Michel Temer receive a full and transparent investigation, and that the execution of justice is not reduced to back-room politics. Brazil's future -- the future of reform at every level -- depends on it.
Lula is the biggest fish caught in the multibillion dollar corruption investigation known as Operation Carwash. (His successor, former President Dilma Rousseff, was impeached almost a year ago over charges of manipulating the fiscal budget.) If his conviction for graft and money laundering sticks, it could scotch his shot at the presidency in 2018, in which he leads the polls.
Whether the investigation into Temer's dealings is allowed to progress is, unhappily, an open question. In a controversial decision last month, he was acquitted on charges of illegal campaign financing that could have cost him his job. Now he also seems likely to avert his trial on charges of corruption. Temer has insisted on his innocence. The problem is that the decision to adjudicate that claim rests with politicians, not the courts.
QuickTake Brazil's Highs and Lows
Unlike Lula, Temer is a sitting head of state. Like many of his peers around the world, he is shielded from prosecution. For the case at hand to proceed, Brazil's lower house must approve it by a two-thirds majority. Temer reportedly has the votes to block a trial, which would also have to take place before the Supreme Court. Similar advantages extend to federal legislators -- and they are magnified by the court's huge case backlog.
This near-immunity of legislators fosters impunity and widespread public cynicism. It doesn't help that Temer and legislators have maneuvered to blunt the Carwash investigation. Last week, for instance, federal police said they would shut down the probe's primary task force, prompting complaints from investigators. Both in symbolic and practical terms, that's a mistake. Federal legislators should also lose their legal standing before the Supreme Court. Penalties should be increased, statutes of limitation lengthened, and lengthy appeals streamlined.
The markets cheered this week's conviction of Lula, whose populist policies were seen as a threat to the passage of badly needed economic reforms. They also hailed this week's passage of legislation that will make Brazil's labor markets more flexible. But those who hope for a speedier economic recovery should remember that the success of reforms -- beginning with fixes to Brazil's pension system -- ultimately depends on public support. That will be lacking as long as voters believe their representatives are beyond accountability and justice.
--Editors: James Gibney, Michael Newman
To contact the senior editor responsible for Bloomberg View's editorials: David Shipley at davidshipley@bloomberg.net .
Before it's here, it's on the Bloomberg Terminal.
LEARN MORE