Russia
The Artist Who Waited All His Life for Putin
Ilya Glazunov, 87, articulated a vision of Russian national pride that Putin later embraced.
by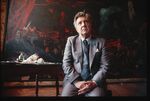 If art is to be judged by its power to shape reality, Ilya Glazunov, who died on Sunday at the age of 87, was one of the greatest artists of all time, despite the peculiar mix of megalomania, crowd-pleasing showmanship and painful clumsiness that characterized his work. More than perhaps anyone else, Glazunov is responsible for articulating the eclectic, part Russian nationalist, part Soviet ideology on which Russian President Vladimir Putin has settled during his more than 16-year rule.
To someone unfamiliar with his work and views, the Soviet part of Glazunov's life would be baffling. A descendant of the Russian nobility, he lost his parents in the German siege of Leningrad: They starved to death. In 1957, his graduation work at the Repin Institute of Painting, Sculpture and Architecture in Leningrad was rejected by the examiners because it depicted the Red Army's unheroic retreat as Nazis advanced in 1941. But the patronage of Sergei Miklhaklov, the author of the lyrics to the Soviet national anthem, led a to a series of high-profile commissions. Glazunov painted the portraits of foreign ambassadors, Soviet celebrities, eventually even the country's leader, Leonid Brezhnev. 
As he became a celebrity in his own right and was allowed to travel so he could paint foreign dignitaries, the official Artists' Union was reluctant to back him. In a 1976 report to the Communist Party Central Committee, Yuri Andropov, the KGB chief who would become Brezhnev's successor, wrote of the artist:
Most often, he positions himself as a Russophile, often sliding toward openly anti-Semitic sentiments. The messiness of his political views is sometimes not merely worrying but repellent. His hot temper and elements of conceit are not helpful when it comes to normalizing relations in the creative milieu.
Andropov's recommendation was to be nice to Glazunov and extend official recognition to him to preempt a possible defection to the West. He was allowed to teach and exhibit officially. In 1980, Glazunov was named People's Artist of the Soviet Union -- an honorary title that cemented his exalted status once and for all. 
In 1988, with what felt like most of Moscow, I lined up for hours to see Glazunov's major exhibition at the Palace of Youth. The main draw was a 10-by-20 foot canvas titled "The Mystery of the 20th Century" that was banned from exhibitions since 1977 for depicting dozens of personalities from Russian history under a dominant crucifix, including dissident writer Alexander Solzhenitsyn in prison camp garb. It also showed Bolshevik leaders Leon Trotsky and Josef Stalin riding a troika across a field strewn with corpses. 
When I finally found myself in front of Glazunov's masterwork, I was underwhelmed. The faces looked cut out of a giant magazine and glued unevenly onto the canvas without so much as an attempt to match light and shadow. Glazunov's inspiration clearly came from the medieval Russian icon, but the painting had all the sophistication of a gigantic lacquer box.
Still, many around me gaped, drawn not so much to the art itself as to the hierarchy of values it laid out: Religious orthodoxy, the monarchy, Communism as a costly, deadly mistake -- but, at the same time, a pantheon of Russian cultural figures sanctified by Soviet schoolbooks, and an order of significance prescribed for the Russian czars by Stalin. I didn't realize I was looking at the collage of Orthodox, imperialist and Soviet stereotypes that would be spouted by Putin and his ministers and taught to kids in Moscow schools almost two decades later.
How could I? In 1988, it looked like the Soviet Union was on a path toward Westernization. Yegor Ligachev, the conservative nationalist Politburo member who visited the exhibition though it hadn't been sponsored by the Artists' Union, would would no longer be a Communist Party leader in less than a year. Mikhail Gorbachev -- whose wife, Raisa, was a Glazunov fan -- appeared to be cozying up to Western powers. He was more tolerant of religion than his predecessors, which Glazunov liked, but he was quickly shedding the Soviet empire. 
Then came the 1990s. Glazunov was running his own art academy and still painting VIP portraits, but, judging by his work, he was acutely uncomfortable. In a fresh 10-by-20 foot statement titled "The Market of Our Democracy," filled with images of abject poverty, crudeness and depravity, he depicted himself holding up a sign with the words, "Where Are You, Russia's Faithful Sons?"
Glazunov's dreams came true in 1999, the year that work was finished. President Boris Yeltsin resigned on New Year's eve, and Putin took over as his chosen successor. He treated Glazunov as a friend -- Putin's press secretary, Dmitry Peskov, pointed out their "long-standing friendship" in the Kremlin's message of condolences -- and his work as a conduit for a powerful ideological message. Glazunov was granted his own museum in Moscow, where he displayed many of his 3,000 paintings, and the president visited from time to time. During one such visit, Putin gently criticized the artist for depicting the saints Boris and Gleb as too frail and victim-like -- Russia, he said, needed manlier heroes who could stand up for themselves -- and commented that a folk hero's sword in another painting was too short, "like a penknife." Glazunov, his days as a firebrand contrarian far behind him, agreed good-naturedly, even asking Putin's advice on exactly how much further the sword blade should extend.
In Glazunov's contented old age, it all came together: The power of the Church, Putin's near-monarchy, the fuzzy warmth of Soviet nostalgia and the celebration of iconic Russianness -- in contrast to the "Sunset of Europe", depicted by Glazunov as the arrival of feral-looking immigrants with their non-white faces. The painter would have gone even further, though. He wrote in a 2009 column calling for the restoration of Russian society's traditional division into estates -- nobility, clergy, peasantry, traders and the urban working class:
Some say the Russian people need a strong hand. I believe every nation needs a strong ruler's hand. Lackeys cannot be rulers. 
Given the Putin's elite's view of themselves as the new nobility, with large country estates and sinecures in state companies for their children, the restoration of the estate system is the next stage of a process Glazunov helped to will into existence. Though he's gone, my country is still his lacquer box.
To contact the editor responsible for this story:
Mike Nizza at mnizza3@bloomberg.net
Before it's here, it's on the Bloomberg Terminal.
LEARN MORE