view
Defining 'Presidential' Downward
Why can't pundits resist praising Trump when he acts like a normal president? It can never last.
by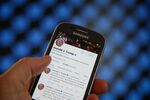 After President Donald Trump wrapped up a long meeting with his Russian counterpart Vladimir Putin on Friday at the G-20 summit, political analyst David Gergen pronounced Trump's behavior "presidential."
Praising Trump for talking to Putin about Russian interference in the 2016 campaign, Gergen told CNN:
This seemed like we were back to normal for the first time -- one of the only times in the last few months. This is what we expect from our president.
Normal for a day or not, it didn't take long for Trump to revert to form. By Sunday he was downplaying the notion that he had used his meeting with Putin to take a hard line about what he had previously called "Russian meddling in our election."
Trump also tweeted on Sunday morning that he and Putin had "discussed forming an impenetrable Cyber Security unit so that election hacking, & many other negative things, will be guarded."
About 13 hours later, the presidential president reversed course, perhaps to calm the nerves of anyone alarmed by the prospect of partnering with the Kremlin to monitor election hackers and other negative things:
And so it goes. Pundits and journalists have been quick over the last six months to latch on to moments when POTUS appears to have turned a mystical corner and suddenly embodied the astute, informed, and results-oriented person everyone (more or less) wants every leader (more or less) to be.
But maybe it's time to move on permanently from this game. Trump will always be Trump. That person isn't rational, tactical, on-point and on-message. He operates by constantly angling for center stage -- and embroidering his act with the bravado and charisma that his core supporters adore -- and by lashing out at real or perceived slights. (In the case of his presidency, those slights include a very real federal investigation of how he and his team have intersected with Russian interests).
The president may be on his best behavior from time to time, but like any kid forced by parents to avoid doing something they just love to do, that never lasts long.
Take Trump's joint address to Congress in February. Some news accounts decreed the speech to be "presidential" -- largely because Trump delivered prepared remarks in his first big post-Inauguration appearance in a manner that wasn't inflammatory, boastful, or riddled with far-out claims about how the world works. It was "a pivot to his more presidential side," observed one reporter.
Just a few days later, early on the morning of March 4, the president un-pivoted by launching a barrage of unsubstantiated tweets accusing the Obama Administration of tapping his phones in Trump Tower:
Today, building on his bravura un-presidential performance from Sunday, Trump offered a spasm of tweets that touched glancingly on serious policy issues like health care and on the appropriate diplomatic role for his daughter Ivanka.
Things became even more un-presidential today when Trump lashed out at James Comey, whom he'd fired as director of the Federal Bureau of Investigation, for allegedly leaking classified information about the Russia investigation:
But POTUS apparently based his charge against Comey on a Fox News morning show he was watching, in which the Fox team inaccurately cited another news source, The Hill. Although a number of Comey's memos about his meetings with Trump contained classified information, Comey had already testified that those he gave to a friend to leak did not. (The Hill got this right, as the Washington Post's Philip Bump noted, but Fox didn't.)
It's likely that Trump jumped on the misdirection that Fox provided because he and his family were on the receiving end of a pair of significant New York Times stories over the weekend. The articles reported that the president's oldest son, Donald Trump Jr., met with a Kremlin-tied lawyer during the 2016 campaign on a promise of being offered damaging information about Hillary Clinton. In the Trumpian universe, trying to taint the former leader of an investigation (Comey) can taint everything else about the probe -- and trying to taint an opponent is more fundamental to Trump's sense of himself than being traditionally presidential.
All of Trump's un-presidential behavior keeps stoking a longing for the alternative. One satirical Twitter account, @PresidentialTrump, is dedicated to reminding us of what our guy could be if only he wasn't Donald Trump.
But putting the nation's security first -- and following through in a methodic and unrelenting way to deliver on policy promises like health care, infrastructure development and tax reform -- isn't how Trump defines "presidential."
Trump defines MODERN DAY PRESIDENTIAL as routinely offering fresh fodder on social media platforms for his supporters and critics to chew on.
That, of course, amounts to defining "presidential" downward. And waiting for Trump, who recently turned 71 and is set in his ways, to define his role upward is probably not a wise course.
To contact the editor responsible for this story:
Jonathan Landman at jlandman4@bloomberg.net
Before it's here, it's on the Bloomberg Terminal.
LEARN MORE